Indonesia's Bakrie Vows Protectionism for Natural Resources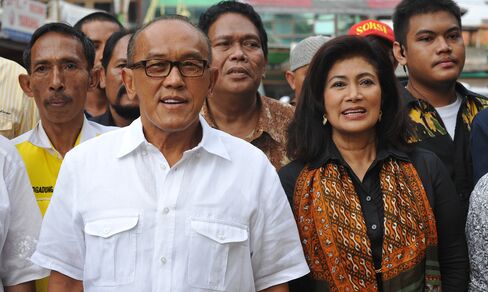 Indonesia should keep more resources such as natural gas at home to bolster its domestic industries, according to Aburizal Bakrie, who rates himself the favorite to win a presidential election to be held in July.
Bakrie, chairman of the nation's second-biggest political party Golkar and whose family coal business has faced financial probes, said Indonesia's leaders must focus on building infrastructure and deepening the industrial sector.
Indonesia needs "the courage to face and negotiate with parties overseas and the courage to explain to the public about the problems we face," Bakrie said in an interview with Bloomberg TV Indonesia as he met voters in central Java. "We say thank you for buying our gas. But going forward, I will use this gas first and will only export the rest."
Bakrie, who dropped out of the Forbes list of the 40 richest Indonesians in 2012, is tapping into a protectionist mood as Southeast Asia's biggest economy seeks to cut dependence on imports. That may earn him votes in the presidential poll, with another candidate, Prabowo Subianto, calling for a "face off" with foreign investors to "hammer out fair prices and fair terms."
Golkar is the only one of the country's three major parties to declare a candidate so far for July. Bakrie led ex-general Subianto, who represents the smaller Gerindra party, and lagged behind Jakarta Governor Joko Widodo, who hasn't announced plans to run, in a January poll by the Indonesian Survey Circle.
LNG, Coal
"If we are combining both the electability factor and eligibility, then ARB is number one," Bakrie said in the Feb. 9 interview, referring to his initials. The 67-year-old grandfather said he is fit to contest the election. "I'm used to walking six kilometers (3.7 miles), that's circling a soccer field 15 times."
Indonesia, a former Organization of Petroleum Exporting Countries member, was the world's largest exporter of liquefied natural gas until 2006. Declining output and increasing domestic demand lowered it to the fifth-biggest shipper of the cooled gas by 2012. The country is the largest exporter of thermal coal for power stations, nickel ore and refined tin.
Indonesia's LNG output is sold mostly under long-term contracts to overseas buyers, mainly Japan and South Korea. Because of the decline in gas production, domestic buyers in the world's fourth most-populous nation can struggle for supplies.
Red and White
The government of President Susilo Bambang Yudhoyono has made a series of moves to limit exports of resources in a drive to turn the nation from an exporter of raw materials into a producer of higher-value manufactured goods. Indonesia banned exports of raw mineral ores on Jan. 12, and lawmakers on Feb. 11 passed a trade bill that enables the government to restrict exports and imports to protect local industries.
Indonesia will cap coal output this year at about 5 percent less than the level for 2013, to stem declining prices and to control production because the fuel is not a renewable resource, Edi Prasodjo, a director for coal at the energy ministry, said on Feb. 7.
Bakrie's comments signal a government he led would probably continue Yudhoyono's policies. He said Indonesia should resist any pressure from foreign trading partners to interfere in policy making.
"The mood pendulum is not exactly moving toward free markets," said Wellian Wiranto, a Singapore-based economist at Oversea-Chinese Banking Corp. "Whoever comes to power will have to offer enough nationalist shades of red and white," he said, referring to the colors of Indonesia's flag.
Infrastructure
Yudhoyono's government has reduced state debt, winning the country an investment-grade sovereign credit rating in his second term, while struggling to build the roads, ports and airports needed to attract more investors. The rupiah fell 21 percent last year to be Asia's worst-performing currency on investor concerns with a trade deficit and persistent inflation.
Yudhoyono is barred by law from seeking a third term.
Economic growth this year may slow to the least since 2009, to between 5.5 percent and 5.8 percent, as the government reins in the current-account deficit, Finance Minister Chatib Basri said Feb. 23. That compares 5.8 percent growth in 2013.
The Southeast Asian nation must spend money to develop infrastructure, including oil refineries, and take a more "aggressive" fiscal stance, said Bakrie, the nation's coordinating minister for economic affairs from 2004 to 2005. Bakrie said he would focus on rural development and making the country's fuel and food subsidies more targeted.
Debt
As a minister Bakrie favored free-market policies and was opposed to continuing energy subsidies, fighting to achieve two rises in fuel prices, said Keith Loveard, head of risk analysis at Jakarta-based Concord Consulting.
"The major concern is that he would run the country for its business groups, not for the average Indonesian," Loveard said in an e-mail today. "A Bakrie presidency would be in some ways similar to his businesses, particularly in the willingness to take on debt that then turns out to be a major weight on performance."
Stoking nationalist sentiment may benefit Bakrie's businesses, said Dodi Ambardi, a political analyst at Gadjah Mada University. Protectionism would benefit industries such as steel producers while hurting others such as commodity exporters, he said.
'Bad Image'
The Bakrie family, a palm oil-to-property empire founded in Sumatra in 1942, rose from collapse in the 1998 Asian financial crisis with the purchase of coal mines from BHP Billiton Ltd, Rio Tinto Plc and BP Plc. That created PT Bumi Resources, Indonesia's largest coal producer.
In 2010, the Bakrie Group and U.K. financier Nathaniel Rothschild struck a $3 billion deal to set up a London-listed coal company, only to see the venture unravel three years later amid boardroom infighting, debt concerns and financial probes in the U.K. and Indonesia. Bumi Resources shares have fallen 96 percent from their 2008 record to 319 rupiah ($0.03) today.
"I am not worried about the bad image that people have of me," said Bakrie, pointing to his popularity in east Java being highest in the town of Sidoarjo, where in 2006 a gas field run at the time by family company PT Energi Mega Persada spewed mud that covered homes and schools, leading the government to pay compensation.