China Value-Added Tax on Telecom May Cut Carrier Profits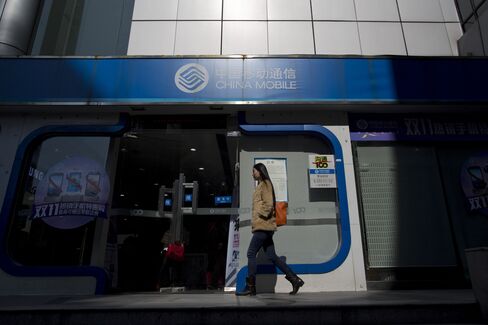 Premier Li Keqiang said China will impose a value-added tax on telecommunication services, a move analysts said may cut earnings at the country's three major wireless carriers.
The VAT will replace an existing business tax as part of a national trial also applied to railway transportation and postal services, Li said in a report delivered today at the start of the annual meeting of China's legislature, the National People's Congress. Li didn't say when the VAT would start or offer other details.
Regulators are pushing the nation's three state-run carriers to cut prices, offer more choices and improve customer service for China's 1.2 billion wireless user accounts. The new tax system may begin as early as April and could cut 9 percent from annual net income of China Mobile Ltd., China Unicom (Hong Kong) Ltd. and China Telecom Corp., according to estimates from Ricky Lai, a Hong Kong-based analyst at Guotai Junan Securities.
"This will be the biggest policy change to impact telecommunications coming out of the congress this year," Lai said in a phone interview today. "We expect this will increase the tax burden and affect the net income of all the carriers in coming years."
China Unicom fell 2.7 percent to close at HK$10.16 in Hong Kong trading. China Mobile lost 0.2 percent to HK$73.75, while China Telecom rose 0.3 percent to HK$3.37.
The VAT would replace an existing business tax that is about 3 percent of revenue, said Christopher Lane, a Hong Kong-based analyst with Sanford C. Bernstein. The precise impact of the change will depend on the level of VAT, which is estimated to be between 6 percent and 11 percent, he said.
Reduce Profitability
The policy change is expected to allow carrier deductions for some costs, which may offset some of the tax, Lane said in an e-mail today.
Rainie Lei, a Hong Kong based spokeswoman for China Mobile, and Jacky Yung, a Hong Kong-based spokesman for China Telecom, both said they didn't immediately have information available on the VAT plan. Joanna Rui at China Unicom couldn't immediately be reached by e-mail or phone.
"The net impact to each telco will depend on the absolute level of the tax and the deductions they are able to claim," Lane said. "Our modeling suggests that at the lower levels the tax is neutral as the operators will have sufficient deductions to reduce the burden. However at the higher levels we expect it to result in a decrease in profitability in the near term."
The VAT tax is the latest policy change for the industry following a December reduction in fees carriers pay to China Mobile to connect to the largest wireless network. Regulators in May also began a trial allowing private companies to lease excess network capacity from state-owned carriers.
"The direction of China telecom industry reform is to promote competition," Miao Wei, head of the Ministry of Industry and Information Technology, told reporters at the congress meeting today in Beijing. "We encourage competition between operators to cut fees."
— With assistance by Edmond Lococo
Before it's here, it's on the Bloomberg Terminal.
LEARN MORE