China Retains 7.5% Growth Target for 2014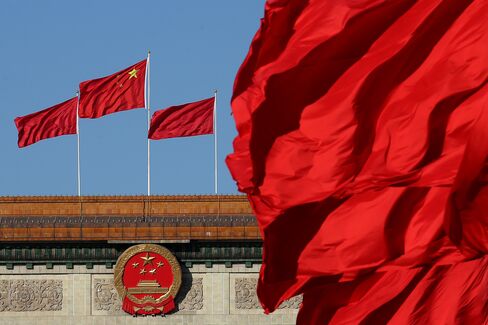 China set a 7.5 percent target for economic growth in 2014, a pace that may make it more difficult to achieve the leadership's goals of curbing credit risks and stemming the pollution choking the nation's biggest cities.
The growth target, which is the same as last year's, will boost market confidence and protect jobs, Premier Li Keqiang told the annual meeting of the legislature in Beijing today. "We must keep economic development as the central task and maintain a proper economic growth rate," Li said.
The government has pledged to move away from growth at all costs as it tries to clean up the nation's air and water, and control an unprecedented debt surge that's evoked comparisons to the run-up to Asia's financial crisis. In the latest sign of financial stresses, a solar company yesterday signaled the risk of what may be the first onshore bond default.
"It is going to be very challenging to achieve everything promised in this work report," said Yao Wei, China economist at Societe Generale in Hong Kong. "Speeding up reform, fighting pollution, managing debt risk and yet the same growth target –- something has to give."
China's benchmark Shanghai Composite Index of stocks fell 0.5 percent at 2:17 p.m. local time after news of the potential bond default. The MSCI Asia Pacific Index climbed 0.6 percent as the threat of war in Ukraine receded.
Ensuring Employment
Li's work report, which opens the meeting of the National People's Congress, is his first since the 58-year-old was named premier toward the end of last year's legislative gathering. He succeeded Wen Jiabao, 71, as part of the Communist Party's once-a-decade leadership handover.
Inflation and money-supply targets also matched those of 2013 and the budget deficit as a percentage of gross domestic product will be about the same as last year.
The 7.5 percent target "is in keeping with our goal of finishing building a moderately prosperous society in all respects, and it will boost market confidence and promote economic structural adjustment," Li said. "More importantly, stable growth ensures employment."
The expansion goal is "flexible and guiding," the National Development and Reform Commission said in a related report today. Local governments "must not seek faster growth or compete with each other to have the highest growth rate," the economic-planning agency said.
Boost Confidence
"It would take lots of public spending to achieve 7.5 percent growth this year, given how weak the investment interest is in the private sector," said Dong Tao, an economist with Credit Suisse Group AG in Hong Kong. "Entirely removing the growth target and replacing it with a qualitative target would be wise to me, but I guess the government needs to boost confidence."
China will "declare war" on pollution and intensify a cleanup while preventing and addressing debt risks, Li said. "We will take strong measures to strengthen pollution prevention and control," he said.
The nation's ability to sustain its pace of growth in coming years will help determine the path of a global economy and emerging markets roiled by events including the U.S. Federal Reserve's tapering of monetary stimulus, turmoil in Ukraine and a currency devaluation in Argentina.
Developing Country
Li and President Xi Jinping are trying to balance clampdowns on credit and shadow banking, and the broadest economic-policy changes since the 1990s, with sustaining a "reasonable" pace of expansion. Previous data this year have shown a slowdown in manufacturing, while trade and credit expansion exceeded estimates.
"China is still a developing country in the primary stage of socialism, and development remains the key to solving all our country's problems," Li said in the report.
The nation is dealing with rising financial risks, including $3 trillion in local government debt and a $6 trillion shadow-banking industry. China averted its first trust default in at least a decade in January as investors in a 3 billion-yuan ($489 million) high-yield product issued by China Credit Trust Co. were bailed out days before it matured.
Shanghai Chaori Solar Energy Science & Technology Co., a Chinese solar company, may not be able to make an 89.8 million yuan interest payment in full by the March 7 deadline. The Shanghai-based company said in a statement yesterday that it plans to pay 4 million yuan to bondholders.
'Mystery Meat'
Bill Gross, who oversees the world's biggest bond fund at Pacific Investment Management Co., said in February that China is the "mystery meat of emerging-market countries" because "nobody knows what's there."
The budget deficit is estimated to rise to 1.35 trillion yuan this year from 1.2 trillion yuan last year, the Ministry of Finance said in its work report. That would account for about 2.1 percent of gross domestic product, it said. The 2013 gap was also 2.1 percent, according to data compiled by Bloomberg.
"China will expand the fiscal deficit to maintain a certain level of stimulus while keeping the deficit ratio unchanged, reflecting the stability and continuity of economic policy," the ministry said in today's report.
The 3.5 percent goal for the consumer price index compares with last year's actual increase of 2.6 percent. M2, the government's broadest measure of money supply, expanded 13.6 percent in 2013 against a target of 13 percent.
Local Debt
Communist Party leaders signaled after a summit in November that they will tighten control over local government debt, as a report from the nation's audit office showed such liabilities swelled to 17.9 trillion yuan as of June 2013 from 10.7 trillion yuan at the end of 2010.
Nomura Holdings Inc. estimates that debt held by local government financing vehicles boosted total government debt to 75 percent of GDP as of mid-2013, compared with the government's official estimate of 56 percent, according to a Feb. 28 note.
While today's finance ministry report gave no concrete details, it said it will strengthen management over borrowing by local government financing vehicles and regulate their financing activities. The ministry will maintain municipal-bond market trials, targeting the ultimate removal of the government financing function from LGFVs.
A 7.5 percent growth target indicates that officials "are much readier to loosen policy if we see further evidence of slowing," said Stephen Green, head of Greater China research at Standard Chartered Plc in Hong Kong. "They are happy with current growth and they are happy with a moderate slowdown but not that much of a slowdown."
— With assistance by Xin Zhou, and Dingmin Zhang
Before it's here, it's on the Bloomberg Terminal.
LEARN MORE