U.S. Taper Bigger Threat Than Ukraine, $75 Billion PFA Says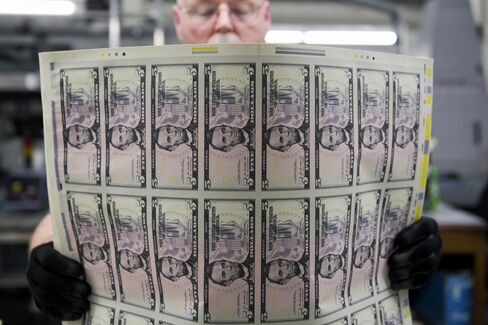 Investors in emerging markets are more at risk from a badly timed exit from monetary stimulus in the U.S. than military unrest in Ukraine, according to Denmark's biggest commercial pension fund.
PFA Pension A/S, which manages more than 400 billion kroner ($75 billion) in assets, predicts the turmoil in Ukraine will be over within a few weeks. While the events unfolding on Europe's eastern frontier have jolted markets this week, investors should pay more attention to signals from the Federal Reserve on how quickly it will unwind stimulus measures, according to the Copenhagen-based fund.
"If the tapering is mistimed, this could have a much more significant negative effect on emerging markets compared with this conflict," Henrik Henriksen, chief investment strategist at PFA, said yesterday in a phone interview. "We actually think that 2014's biggest threat for emerging markets is the pace of the Federal Reserve tapering."
Since the Fed signaled last year it may start to withdraw some support, investors have sold out of high-yielding asset classes. Federal Reserve cuts in monthly bond purchases in December and January were matched by a 8 percent decline in the MSCI Emerging Markets Index in those two months alone. The index rose 0.4 percent as of 12:31 p.m. in London.
Putin's Retreat
European stock markets rose yesterday after President Vladimir Putin said there's no immediate need for Russia to invade eastern Ukraine, signaling a retreat from plans to use military force.
"We're obviously monitoring the situation," Henriksen said. "There's a risk that the situation can get out of control, but our main scenario is that this won't escalate into a full-scale military conflict. That means that for the markets, this could be over in a matter of weeks and then the risk premium that's on these assets will be reduced."
Henriksen said PFA has been underweight eastern European stocks for "a couple of years," meaning it holds less of the shares than its benchmark. "We chose to go underweight because we need reassurance on growth rates in these emerging markets. If the markets keep falling we may change that position as assets may become cheap, but we're not at that stage yet."