Obama Budget Predicts Strongest U.S. Growth Since 2005: Economy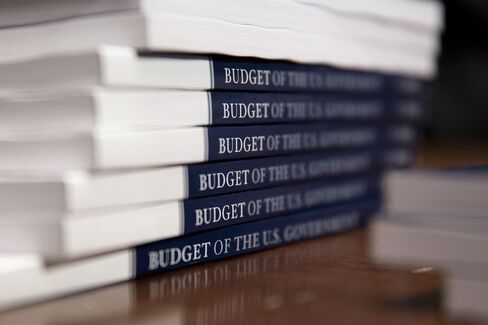 The U.S. economy will grow this year at its fastest pace since 2005, helping reduce the annual average unemployment rate for a fourth straight year even as market borrowing costs rise, the Obama administration predicted.
Gross domestic product will expand 3.1 percent in 2014 after rising 1.9 percent last year, the administration said in forecasts accompanying its 2015 budget plan released today in Washington. The jobless rate will average 6.9 percent this year, compared with 7.4 percent last year, and average 6.4 percent in 2015, according to estimates based on information as of mid-November.
The $3.9 trillion spending request anticipates an accelerating economy that's boosting employment while moving up inflation to levels unlikely to concern Federal Reserve policy makers. The proposal says fixing the immigration system, investing in infrastructure, simplifying the tax code and improving job training would reduce the ranks of the unemployed even more.
"Our own forecast is for a less rosy outlook," said Yelena Shulyatyeva, New York-based U.S. economist at BNP Paribas, who forecasts U.S. economy to grow 2.5 percent this year. Growth estimates made now instead of in November probably would be lower because "some activity will be lost due to the bad weather," she said.
The Standard & Poor's 500 Index rose 1.5 percent to 1,872.71 at 1:39 p.m. in New York. The Bloomberg U.S. Dollar Index, a gauge of the greenback's value against 10 major currencies weighted by liquidity and trade flows, was 0.1 percent higher.
Treasury Yields
The estimates in the budget plan showed the annual average yield on 10-year Treasuries will advance to 3 percent in 2014, from 2.3 percent last year, and increase to 3.5 percent in 2015.
The 10-year yield rose eight basis points, or 0.08 percentage point, to 2.68 percent, after dropping to 2.59 percent yesterday, the lowest since Feb. 4, according to Bloomberg Bond Trader prices.
In Europe, a report showed U.K. construction growth slowed more than economists forecast in February as wet weather and flooding hampered some building activity. In Sydney, the Reserve Bank of Australia reiterated that it's likely to maintain record-low interest rates as Governor Glenn Stevens and his board kept the overnight cash-rate target at 2.5 percent.
Private Forecasts
The White House's 2014 growth projection is higher than the 2.9 percent median forecast of economists surveyed last month by Bloomberg, while the jobless rate outlook for this year is less optimistic than the survey's median of 6.4 percent. In November when the White House's projections were formulated, the median estimate among private economists was for 2014 growth of 2.6 percent.
Jason Furman, the White House's chief economist, said today that since the projections were made more than three months ago, the economy has improved "more than most forecasters had expected." If he were to revise the numbers now, the GDP outlook would be increased and the unemployment forecast would be lowered, he said without offering new numbers.
"With the economy picking up speed, companies say they intend to hire more people this year," President Barack Obama said in a statement contained in the budget proposal. The housing market is rebounding and "over half of big manufacturers say they are thinking of insourcing jobs from abroad," he said.
Tame Inflation
Inflation as measured by the consumer price index will be 1.6 percent this year and 2 percent next year, according to the budget estimates. The Fed targets inflation of 2 percent as measured by the personal consumption expenditures index, which was lower in January than the CPI gauge.
"The recovery has been durable even in the face of headwinds that have emerged in recent years," according to budget statement, citing the rebound in housing, stronger manufacturing and more oil production. "There are encouraging signs emerging across industries."
Harsh winter weather probably contributed to economic weakness early this year, though the extent of the impact is difficult to estimate, Fed Chair Janet Yellen told the Senate Banking Committee on Feb. 27. Lower temperatures and snow storms slowed housing, manufacturing and hiring, and disrupted air travel and construction plans.
Payrolls rose less than projected both in January and December, showing the weakest back-to-back gains in three years.
"Our economy is moving forward and businesses are creating jobs, but our top priority must be accelerating that growth while expanding opportunity for all Americans," according to the budget plan.
Job Growth
A Labor Department report March 7 may show the nation's unemployment rate held at a more than five-year low of 6.6 percent and employers probably added 150,000 jobs in February, according to the median of 85 estimates of economists surveyed by Bloomberg.
In January, Treasury Secretary Jacob J. Lew said the economy this year isn't restrained by the "real headwinds of budget cuts and other fiscal policies" that held it back in 2013.
GDP grew at a 2.4 percent annual rate in the fourth quarter last year, compared with the government's first estimate of 3.2 percent and a 4.1 percent growth pace the previous quarter, revised figures from the Commerce Department showed Feb. 28.
Monetary policy has been supportive of growth, with the Fed keeping its benchmark short-term interest rate near zero since December 2008 while carrying out three rounds of bond buying aimed at keeping long-term borrowing costs low.
The Federal Open Market Committee's next scheduled policy meeting is March 18-19.
Fed officials, who released their estimates in December, saw economic growth of 2.8 percent to 3.2 percent this year and 3 percent to 3.4 percent in 2015. The central bankers' forecasts are based on comparisons of the fourth quarter to the same period in the prior year.
The projected gain in GDP this year would be the biggest since 2005's 3.4 percent. Obama's budget plan today forecast 3.4 percent growth next year on an average annual basis.
Before it's here, it's on the Bloomberg Terminal.
LEARN MORE