Nikkei 225 Futures Trading Fault Was Human Error: JPX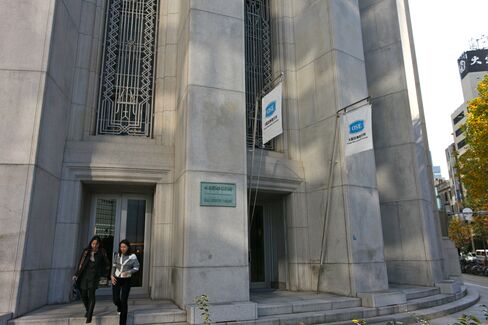 Nikkei 225 Stock Average futures and options contracts stopped trading in Osaka for more than 20 minutes today due to a "human operational error," the derivatives bourse operator said.
Nikkei 225 large and mini contracts halted a little after 11 a.m. Tokyo time, Naoya Takahashi, a spokesman for Japan Exchange Group Inc., said by telephone. They resumed at about 11:30 a.m., he said. Nikkei 225 options also stopped trading, according to a statement on the Osaka Securities Exchange website. The bourse operator has confirmed the problem was caused by human error, OSE spokesman Masahiro Yada said. Takahashi earlier said it could have been due to a system issue.
Futures on the Japanese equity measure are traded in Osaka, Singapore and Chicago. Contracts due March 14 traded at 14,720 in Osaka as of 11:04 a.m., and 14,710 at 11:30 a.m., according to data compiled by Bloomberg. The contracts rose 0.6 percent to 14,720 as of 1:42 p.m.
"The exchange will be worried that Singapore Exchange will be seen as a better exchange by clients and more robust,"said Stuart Beavis, head of institutional equity derivatives at Vantage Capital Markets in Hong Kong. "Some clients can only trade Osaka so they will not be happy. Basically most option traders use Osaka, so during that period virtually nothing was traded and not many people switched to Singapore."
Previous Disruption
The disruption comes exactly one year after a software error forced a halt to trading of some derivatives on the Osaka bourse, causing volume to plunge more than 90 percent. The Tokyo and Osaka derivatives exchanges plan to merge their systems to use Osaka Securities Exchange's J-Gate trading function on March 24. Whether this will continue as planned will be announced on March 22, Takahashi said.
The Nikkei 225 Stock Average, a measure of the underlying cash equities, surged 57 percent last year amid efforts by Prime Minister Shinzo Abe and the Bank of Japan to stimulate the economy and exit deflation.
JPX earned about 7.3 billion yen ($72 million) from Nikkei 225 futures and options participation fees in the nine months through Dec. 31. Trading volume for its futures surged 61 percent in the period from a year earlier, while options turnover soared 124 percent, according to an earnings release.
Before it's here, it's on the Bloomberg Terminal.
LEARN MORE