Mining M&A Goes Hostile as Targets Want More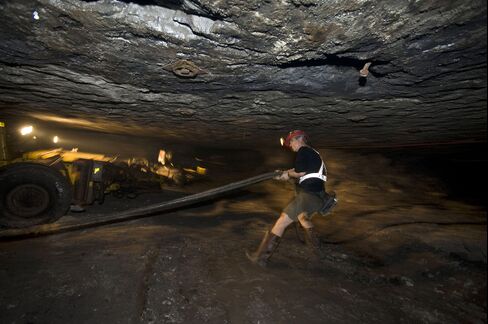 Conditions are ripe for more hostile takeovers in mining as buyers capitalize on share prices that plunged last year, while targets hold out for more amid a glimmer of recovery.
"For a lot of people, when their prices are low they don't want to do a deal," said Derek White, chief executive officer of the international unit of KGHM Polska Miedz SA, a Polish copper and silver producer. "For that reason you are going to see more hostility because people see value and they want to try and capture that."
There have already been four unsolicited or hostile bids for mining companies announced this year, with a total value of $4.54 billion, compared with $594.4 million for all of 2013, according to data compiled by Bloomberg. Goldcorp Inc.'s C$2.94 billion ($2.65 billion) offer for Osisko Mining Corp., announced Jan. 13, was the largest unfriendly bid for a mining company since First Quantum Minerals Ltd. bought Inmet Mining Corp. for $4.7 billion in November 2012, Bloomberg data show.
Mining companies, especially smaller explorers and developers that don't generate revenue, declined last year and struggled to sell shares to fund operations after commodity prices fell. While valuations have started improving since the start of 2014 as gold rose 11 percent and equity offerings increased, the Bloomberg World Mining Index of 102 companies was still down 32 percent in the past two years.
Direct to Shareholders
KGHM, based in Lubin, Poland, is focused on investing in exploration and development companies and their projects, rather than acquisitions for now, said White, who spoke on the sidelines of the Prospectors & Developers Association of Canada convention in Toronto on March 2.
Boards and management at these companies don't want to sell at current prices, said David Garofalo, CEO of HudBay Minerals Inc., which made an unsolicited bid last month for Vancouver-based Augusta Resource Corp.
"They still have share prices in their head that are much higher than where they are on an absolute basis right now," said Garofalo, who also sees the possibility of more hostile bids. "It's possible that in frustration some of the more senior companies, more established producers, might go over the heads of the board and management in order to bring it directly to shareholders."
Due Diligence
Augusta's situation is more a coincidence than the start of a new trend in the industry, Augusta CEO Gil Clausen said. HudBay has limited capability to pay fair value, and Augusta sees "no chance of the bid succeeding in its current form," Clausen said yesterday in an e-mail.
Hostile bids are tricky in the mining industry, said Mitchell Krebs, CEO of Coeur Mining Inc.
"One of the disadvantages of going into a hostile situation is that you don't really get a chance to do any diligence," he said in a Feb. 24 interview. "In this industry it's got to be a pretty unique situation for you to feel that comfortable about something to the point where you don't need to do any diligence."
Goldcorp, which is seeking control of Osisko's Canadian Malartic mine in Quebec, said yesterday it agreed to settle a lawsuit filed by the smaller company seeking to stop the bid. Osisko, which has rejected the offer as too low, will allow Goldcorp full access for due diligence by April 1, Vancouver-based Goldcorp said in a statement. In return, Goldcorp agreed not to take up and pay for shares tendered in the bid before April 15, unless Osisko announces a transaction with another party.
'Maximize Value'
The deal gives Osisko more time to consider alternatives to the Goldcorp bid, CEO Sean Roosen said yesterday in a statement.
Dealmaking activity in the mining sector slowed last year, dipping below $100 billion in total value for the first time since 2005 and with the fewest number of deals since 2006.
In addition to the Goldcorp-Osisko and HudBay-Augusta bids, Minerals Technologies Inc. has made an unsolicited bid for Amcol International Corp., a producer of bentonite clay whose products are used in metal casting, construction and drilling, topping an agreed offer from Imerys SA. Waterton Global Resource Management also has made an unfriendly bid for Chaparral Gold Corp.
Hostile bids that are successful can help boost mergers and acquisitions in the sector more broadly, said Isser Elishis, managing partner and chief investment officer at Waterton, a Toronto-based private equity firm that invests in precious metals assets and companies. Waterton has offered C$57.1 million for Chaparral, an exploration company with assets in Nevada. Chaparral rejected the bid as too low.
"Eventually every market gets locked" when buyers and sellers can't agree, Elishis said yesterday in an interview. "Usually, in my opinion, what kicks it over is you get a couple of hostile bids that go through, the market revalues itself, not only on price but on rationalization of the transaction, and then the market starts to function normally."
Before it's here, it's on the Bloomberg Terminal.
LEARN MORE