Defying Skeptics, Some Business Schools Double Down on Capitalism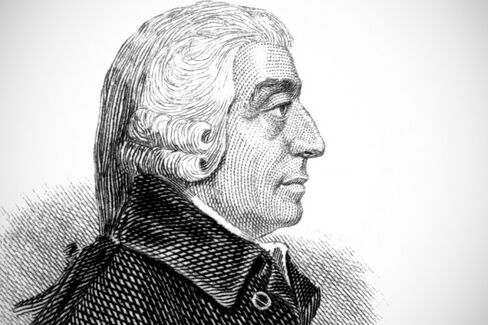 Free market purists are thriving on some business school campuses, where a handful of student and institutional initiatives have formed to promote the tenets of capitalism.
Last fall, three second-year MBAs at Duke University's Fuqua School of Business formed a chapter of the Adam Smith Society—a project of the Manhattan Institute for Policy Research, a conservative think tank—that advances the ideas of free enterprise among MBA students. Last week, Fuqua's offshoot was named "best new chapter" by the society.
In the three years since the Manhattan Institute launched the society, fourteen business schools have formed their own chapters, including the Booth School of Business at the University of Chicago, the Harvard Business School and Cornell's Johnson School of Business.
Smith believed in limited regulation, arguing that markets should be governed by the natural principles of supply and demand. Since he was one of history's most influential economic thinkers and the father of modern capitalism, it isn't surprising that his work is taught at business schools.
After the 2008 financial crisis, however, criticism of laissez-faire economic policies led many business schools to take a gentler approach to boosting business, launching initiatives to promote social good while reminding students that doing so can be profitable. A Kellogg School of Business-Aspen Institute conference last week talked about "private politics," a term that describes companies, rather than government, imposing regulations.
The popularity of the Adam Smith Society, however, suggests there's still an appetite for unadulterated free market economics. Ted Lyons, Richard Mozeleski, and Rich Karcher, the Fuqua students who launched the school's chapter, say that more than 20 percent of Fuqua's full-time daytime MBA students are actively involved. All three events they've held were filled to capacity. Faculty "couldn't be more supportive," says Lyons.
"Entrepreneurship, free markets, and business are really what make this country great, and we thought the teaching goals of Duke and the society are aligned," says Lyons.
"We're not trying to define morality," says Mozeleski. "But if you want to achieve a certain desired outcome, we advocate—and the society advocates—that an excellent way to do that would be through free market economics."
A second B-school going full-steam ahead in pushing public appreciation for capitalism is West Virginia University. Last week alumnus Ken Kendrick and wife Randy, along with the conservative Charles Koch Foundation, promised WVU's College of Business and Economics $5 million to build an institute for free enterprise. The institute will study and teach "the roles that the principles and institutions of a free society play in creating widely shared prosperity and improving quality of life," according to the press release.
The announcement came less than two months after a chemical spill from a poorly regulated plant made tap water undrinkable for 300,000 West Virginians. Following the health crisis, a poll by Hart Research Associates and the Sierra Club showed that most voters in the state welcomed greater regulation. The business school's dean, Jose Sartarelli, said the timing of the announcement is a coincidence because the center has been in planning for two years.
"I would suspect if you asked someone what areas our school is strong in—what we are recognized for—one would be free market economics," says Sartarelli.
Alison Mangiero, director of outreach at the Manhattan Institute, says that business school is a natural environment to explore the principles of capitalism.
"Business students in general are more conscious about links between politics, policy, and business," she says. "The debate around capitalism—whether you're talking about it as an opponent or proponent—has captured the imagination of the student."
Before it's here, it's on the Bloomberg Terminal.
LEARN MORE