Women Do Most Exciting $700 Tasting Menus in America as Men Rule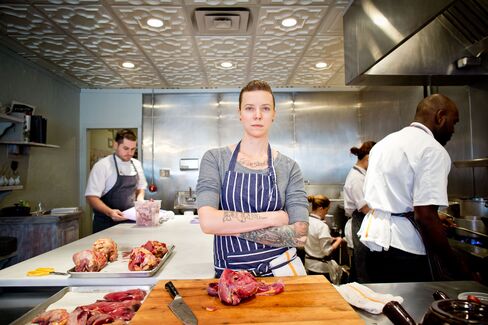 The taxi speeds past the auto-body shops of Chicago's North Side and drops me in front of a used-tire store. This is how you get to Elizabeth, a Michelin-starred tasting-menu joint located opposite a McDonald's.
It's not where you'd expect to spend up to $700 on dinner for two, reports Bloomberg Pursuits in its Spring 2014 issue. It's not where you'd expect to find America's next great restaurant, either. But it is.
A ball of fried spaghetti squash sits atop a fistful of wheat grass. "This is your caviar course," my waiter says.
You mean tumbleweed course?
Fat, white pearls, salty and silky, garnish the squash.
"What type of caviar is this?" I ask.
"Escargot," she replies.
Yep: Snail caviar. It exists. It's edible. And it's awesome. There are many unusual things about Elizabeth. You don't expect a chicken-fried steak made of mushrooms. You don't think you'll like a sausage made of raccoon meat.
But perhaps the most-unexpected thing is something that, in an ideal world, shouldn't matter at all: Its chef, Iliana Regan, is a woman. The numbers are stark. Out of 165 high-end prix fixe menus across the U.S. and Canada that I follow as part of my regular duties as a restaurant critic, fewer than 20 are produced by women head chefs.
The Numbers
Narrow that down to the rarefied realm of tasting-menu-only venues, and you only have about five restaurants, out of 45, where women run the kitchen: Atelier Crenn and Keiko à Nob Hill in San Francisco; Beast in Portland, Elizabeth; and Take Root in Brooklyn. Tighten the criteria even further, to America's 40 most expensive menus, and there's only one woman-run venue: Atelier Crenn.
These numbers reflect a larger lack of female chefs in high-profile roles. There's never been a female head chef at Daniel Boulud's flagship Daniel; at Thomas Keller's French Laundry or Per Se (though there is one at his Ad Hoc in Yountville, California); or at Jean-Georges Vongerichten's namesake restaurant. In fact, there's not a single female top chef at any of the 10 Boulud or 24 Vongerichten restaurants in the U.S. and Canada. That's a problem, because these top toque positions are often important steppingstones to attaining one's own restaurant.
And yet female-run eateries are putting out some of America's most-exciting food. If we want fine dining to move forward, we'll need to do more to support a gender that comprises 49.5 percent of the planet's population but is struggling to achieve parity in the upper echelons of haute cuisine.
Loving Lo
Take a look at Anita Lo's Annisa in New York, one of fewer than 15 woman-helmed restaurants in America with one or more Michelin stars. Lo's seven-course tasting menu is a flavor powerhouse, with nods to France, Japan, Lebanon and North Africa. On a recent visit, there were foie gras soup dumplings (my idea of comfort food), cinnamon-scented beef tartare (uniquely sweet) and Moroccan-spiced lamb (as tender as a filet with twice the flavor of a rib-eye). The menu was as interesting as anything I've tried of late at Daniel Humm's The NoMad or David Chang's Momofuku Ssäm Bar, two Manhattan restaurants that the food press tracks as assiduously as the Centers for Disease Control and Prevention tracks avian flu outbreaks.
I wish we paid more attention to Lo's work, because Annisa isn't everyday fine dining. It represents the kind of creativity we've been seeing from female chefs working largely outside the male establishment.
True to her progressive form, Regan, for example, serves poached oysters with horseradish caviar and gumdrop-sized spheres of cocoa butter filled with carrot tea. These dishes suggest an affinity for perhaps America's only other major female avant-gardist, Dominique Crenn, the lone stateside woman manning (ahem) a two-Michelin-starred restaurant.
And now that Crenn has increased the course count of her longest menu (and the price, to $195), perhaps she'll snag that third star later this year.
Got Cash?
Financing might be a reason there aren't more restaurants like Atelier Crenn and Elizabeth. "Investors are less likely to invest in a woman than a man," Lo says. "There are a lot of established female chefs who can't find enough money to open their own restaurants." Her statement jibes with a U.S. Small Business Administration report from 2013 showing that female business owners rely less on external equity than their male counterparts.
Lo herself opened Annisa without investors, harnessing her life savings (and those of her then-partner, Jennifer Scism), along with a loan from her mother. "It's a mom, mom and mom shop," she quips. Neither are there outside investors in Take Root in Brooklyn, which manages a 10-course prix fixe menu with just two employees: chef-owner Elise Kornack and her wife, Anna Hieronimus (the highlight: pastrami beef heart).
Menton Magic
Barbara Lynch, a Boston-based restaurateur, might have the most-established empire of any high-end female chef, with seven venues and a catering business under her belt. At Menton -- one of two Lynch spots with a female chef de cuisine, Kristen Kish - - diners can sample stellar fare such as carrot-and–goat cheese macarons, honey-coated croissants, pumpkin-filled gougères and tiny bites of raw lobster brought to unprecedented depths of flavor through a pairing with seaweed (Kish will leave the restaurant later this week).
My meal at Elizabeth is even more inventive -- from the fried lichen (at first sweet, then bracingly bitter) to the cheddar-cheese Rice Krispies to the beet leather (like a savory Fruit Roll-Up). And in case you're wondering, the raccoon sausage is deliciously dense and intensely spiced with cloves.
"The women I have here, I immediately give them positions I know they won't get anywhere else," Regan tells me. Right on. I can't wait to see which female chefs come out of her kitchen and set up ambitious restaurants of their own.
(Ryan Sutton reviews restaurants for Bloomberg News. The opinions expressed are his own.)
Before it's here, it's on the Bloomberg Terminal.
LEARN MORE