Venezuelan Protesters Resist the Lure of the Beach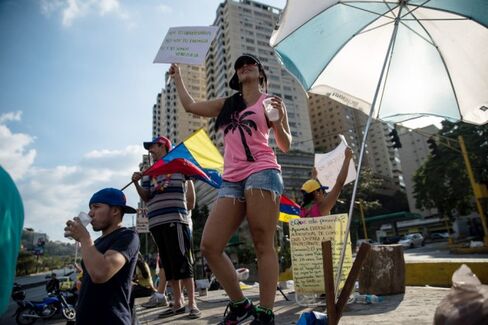 Venezuelan President Nicolás Maduro thought he had a perfect way to defuse student protests that have rocked the country for a month and snowballed into the biggest challenge of his 10-month-old presidency. Maduro extended the Carnival holiday by two days, hoping that university students would find the allure of the country's Caribbean beaches irresistible and leave their protests behind. He was wrong.
In front of their stronghold in the Altamira neighborhood in eastern Caracas, students trucked in two palm trees with broad green fronds and placed them near the main plaza. "Welcome to Altamira Beach," one placard read. "The struggle continues." On the street, itself, the words "resistance zone" had been painted in large block letters.
Instead of sand, "Altamira Beach" is littered with cement blocks, tree trunks, rocks, and other debris. Students and their supporters use the rubble to erect barricades against the government each day. The barriers are usually attacked in the afternoon by the country's National Guard and partially dismantled.
The whole process is repeated the next day and has been going on since Feb. 12, when student protests resulted in the first three deaths. Fifteen others have died since, and Maduro seems no closer to ending the protests that threaten his regime.
On Sunday, thousands of university students ignored the Carnival holiday and marched through Caracas, calling on the government to rein in the security forces and release all those who have been arrested in their fight, including Leopoldo López, a leader of the political opposition.
"This isn't a battle of opposition people against Chavistas," student leader Juan Requesens told supporters, whose numbers stretched for several blocks along Avenida Francisco de Miranda, the main thoroughfare in eastern Caracas. "This is a people's fight against an inefficient government. Maduro, you have lost the streets of Venezuela because today they belong to the people."
Requesens also brushed aside Maduro's invitation to attend a peace conference, saying that students wouldn't go to the presidential palace to stage "a circus and a show."
A tired-looking Maduro convened the talks last week, saying dialogue was needed to avoid further bloodshed. Some opponents of the regime attended, breaking ranks with opposition leader Henrique Capriles Radonski who opted to boycott the proceedings.
Maduro, a former bus driver who calls himself a "son" of the late Hugo Chávez, decreed that the proceedings had to be carried live by all television and radio stations. He may live to regret that decision.
Foes of the government blistered Maduro for his handling of the riots, economy, and soaring crime in prime-time viewing. For viewers of the state televisions stations, which normally ignore the opposition and label them "fascists, Nazis, or reactionaries," the resulting give and take was unprecedented.
"The country is bad off," Jorge Roig, who heads the federations of chambers of commerce, bluntly said as cameras avoided showing Maduro's facial reaction.
A month of rioting has eroded support for Maduro, who eked out a narrow victory over Capriles in last April's special presidential election following Chávez's death in March.
Many Venezuelans have grown tired of constant food shortages and the country's crime. Long lines form whenever hard-to-find products, such as milk, corn meal, toilet paper, cooking oil, chicken, and hand soap, appear. Shopping has become a full-time job.
Although the protests have largely been carried out by the country's middle and upper-middle class, the poor, who are Maduro's natural constituency, have been conspicuous by their unenthusiastic defense of the president. Even in the hillside slums surrounding the capital, barricades have been erected and people often bang their pots and pans in protest whenever Maduro goes on television to speak. "The peace conference has bought Maduro some time," says Tarek Yorde, a Caracas-based political analyst. "But if there aren't results in a week or so, he's going to be more isolated."
Students and their backers show no sign of backing down. Still, Maduro may receive a boost on Wednesday, the one-year anniversary of Chávez's death, when the government kicks off days of tribute to the late leader. Military parades and cultural events are planned.
Yet the renewed focus on Venezuela's "eternal leader" may only underline the fact that the stolid Maduro is no Chávez. "Even if we don't succeed in forcing Maduro from office, we have shown the world that his government isn't democratic, and is a
dictatorship," says Johnni Ramirez, a 24-year-old student on the Altamira Beach. "The world is starting to see what their revolution is really about."
Before it's here, it's on the Bloomberg Terminal.
LEARN MORE