U.K. Gas Gains Most Since 2011 as German Prices Surge on Crimea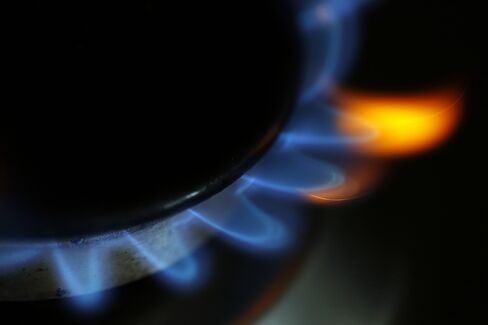 Natural gas prices from the U.K. to Germany jumped amid escalating tension in Ukraine, the main transit route of the fuel from Russia to consumers in the west.
U.K. gas for next-month delivery climbed 10 percent, the biggest one-day gain since September 2011, on the ICE Futures Europe exchange in London. Dutch gas for April 2014 also increased 10 percent, the most ever, while the German contract at the NetConnect hub rose 8 percent, according to broker data compiled by Bloomberg.
The standoff over Ukraine intensified over the weekend as the former Soviet state put its forces on combat readiness after Russian troops occupied the Black Sea region of Crimea and President Vladimir Putin threatened to invade the nation that transits 16 percent of Europe's gas use. The region's biggest stockpiles of the fuel since at least 2008 are damping concerns over supply amid the threat of disruptions.
"A military confrontation is possible and that always leads to insecurity in the market," Tobias Meyer, who buys and sells gas for Frankfurt-based Gas-Union GmbH, said today by telephone. "That's what prices reflect today. I didn't expect such a price spike, especially in the short-term market as the supply situation is still really good. Should the political situation ease, then prices may drop rather quickly again."
U.K. gas settled at 61.7 pence a therm ($10.28 per million British thermal units). Dutch gas climbed to 25.40 euros a megawatt-hour ($10.22 per million Btu) while the NetConnect contract increased to 25.55 euros a megawatt-hour.
Supply Security
European utilities including EON SE and RWE AG, Germany's two biggest, buy gas from Russia under long-term contracts linked to the price of oil. Security of supply for utilities probably won't be "materially affected," Citigroup Inc. said.
Natural gas supplies to Ukraine are not disrupted, Andrey Kruglov, the chief financial officer of Russian pipeline gas export monopoly OAO Gazprom, said today at an investor day.
"Everything is fine," he said in London.
Ukraine's daily imports of the fuel from Russia rose to 45 million cubic meters as of March 1 compared with 20 million cubic meters a year earlier and flows to Europe have not been disrupted, an official at Ukrainian national pipeline manager Ukrtransgaz said today by phone from Kiev, asking not to be identified in line with policy.
Wholesale gas costs jumped in January 2009 after Russian supplies via Ukraine halted amid a dispute over prices and transit terms.
Alternative Supplies
Europe also imports gas through pipelines from Norway, the region's second-biggest supplier, as well as from Algeria and Libya and as liquefied natural gas on board ships.
"As has been the case in the recent past when tension has arisen between Russia and Ukraine, there are concerns about Russian gas supplies into Europe via Ukraine," Citigroup analysts including Sofia Savvantidou in London said today in a note to clients. "We believe there is ample infrastructure for gas to flow into Europe via alternative routes."
Ukraine last year transited about 86 billion cubic meters of gas, or about 34 percent of total European imports and 53 percent of Gazprom's exports to Europe and Turkey, according to data from Ukraine's Energy Ministry and Gazprom.
"It's understandable that gas prices rise now as markets fear a potential escalation of the situation in Ukraine and especially on Crimea," Eugen Weinberg, head of commodities research at Commerzbank AG in Frankfurt, said today by phone. "Russia is still the most important gas supplier to Europe."
U.K. gas stockpiles were 55 percent full on March 2, the highest for the time of year since at least 2008, according to data from Gas Infrastructure Europe. Inventories in Germany were 60 percent full, also the most since at least 2008, while Italian stores were at 51 percent, the highest since 2011.
"I would imagine that financial players have used the ongoing situation in Ukraine to ratchet up the price," Nick Campbell, an energy analyst at Inspired Energy Plc in Kirkham, England, said by e-mail. "The continent is running on coal at the moment so there's plenty of gas swishing around in Europe."
Before it's here, it's on the Bloomberg Terminal.
LEARN MORE