Sun Hung Kai Falls After Bonus Warrants Plan: Hong Kong Mover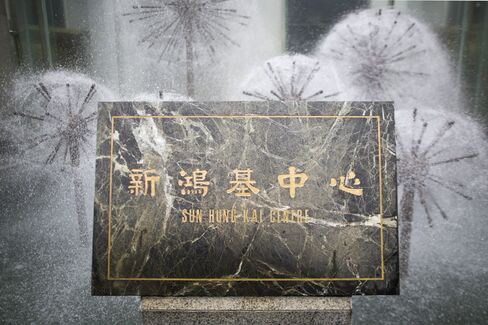 Sun Hung Kai Properties Ltd., Hong Kong's second-largest developer, fell by the most in more than eight months after a plan to issue bonus warrants.
The company said on Feb. 28 that it may raise as much as HK$22.2 billion ($2.9 billion) from giving shareholders convertible warrants to buy land in the city. Shares fell 2.7 percent, the biggest drop since June, to close at HK$96.65 in Hong Kong.
"Even though the dilutive effect is not significant, we think the market will be puzzled by why the company decided to seek new funding from equity rather than debt," wrote UBS AG Hong Kong-based analysts led by Eva Lee in a report sent out today. Lee estimated the developer's gearing, or debt-to-equity level, will increase to 18 percent from 12 percent this year, reflecting the payment.
The developer will issue one bonus warrant for every 12 shares held, which entitles holders to subscribe to one new share at HK$98.60 each, according to a statement. The new shares will represent 7.69 percent of the enlarged capital upon full subscription.
The company is interested in most Hong Kong sites that will come up for sale and sees many opportunities for land acquisitions in the next two to three years, Co-Chairmen Thomas and Raymond Kwok told reporters in Hong Kong on Feb. 28 after Sun Hung Kai announced first-half earnings.
Land Acquisitions
Property prices, which have more than doubled since the start of 2009, may drop as much as 20 percent this year on expectations of rising interest rates, according to Standard & Poor's. The government will sell land this fiscal year that could yield 11 percent more private homes, as it seeks to bring down prices in the world's most-expensive residential market.
"There are a lot of opportunities to bid for land in the coming two years," Raymond Kwok said. "We are active in land acquisition and the competition is tense as many mid and smaller developers, and Chinese developers hold optimistic views on land prices in Hong Kong."
Sun Hung Kai will actively bid for every mid- and big-size plot that comes up for sale in Hong Kong, Raymond Kwok said. The government will sell land for as many as 15,500 private homes for the fiscal year ending March 2015, up from the 14,000 units expected this year, Financial Secretary John Tsang said in his budget speech last week.
Former Chairman Walter Kwok plans to exercise his right to convert the Sun Hung Kai warrants into shares because he is confident about the company's future and stock's investment value, Ming Pao newspaper reported today, citing an unidentified spokesman for Kwok.
The developer booked a lower profit from apartment sales as the government maintained measures to prevent a bubble. Underlying profit, which excludes property revaluations, fell 8 percent HK$10.6 billion for the six months ended Dec. 31.
— With assistance by Bonnie Cao
Before it's here, it's on the Bloomberg Terminal.
LEARN MORE