Oaktree's Marks Urges Caution as Money Flows Into Junk Loans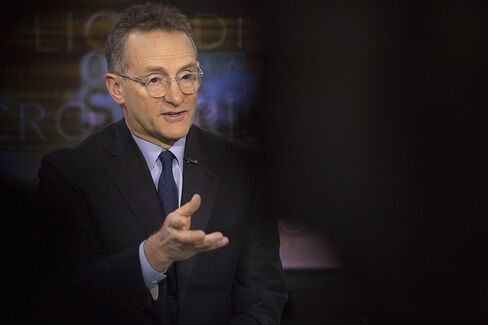 The head of the world's largest distressed debt fund is emphasizing the need for making careful choices as loan funds inundated with unprecedented cash enable junk-rated companies to borrow at cheaper rates.
"When things are rollicking and the market is permitting low-quality issuers to issue debt, that's when you need a lot of caution," Howard Marks, the founder and chairman of Oaktree Capital Group LLC, said in a telephone interview. "You have to apply a lot of discernment."
Retail investors, who have been adding assets to loan mutual funds every single week since the middle of 2012, helped boost issuance of leveraged loans last year to a record $676 billion. Marks's comments follow warnings made last week by two Federal Reserve officials about excess in the speculative-grade debt market.
High-yield bond and loan funds "have seen strong inflows, reflecting greater investor appetite for risky corporate credits, while underwriting standards have deteriorated, raising the possibility of large losses going forward," Federal Reserve Governor Daniel Tarullo said at a conference of the National Association for Business Economics in Arlington, Virginia, Feb. 25
Single-B Loans
Single-B rated loans now make up 48 percent of the Standard & Poor's Leveraged Commentary & Data loan index, compared with 37 percent double BB rated loans, according to data compiled by Barclays Plc. That marks a reversal in the composition of the index, which consisted of 50 percent of the higher-quality loans in 2007, according to a Feb. 28 report from the bank.
The Federal Reserve Bank of Atlanta President Dennis Lockhart said leveraged loans are "a source of concern" while "not something to overreact to" in comments to reporters after a banking conference at the Atlanta Fed on Feb. 27.
The average price on the largest floating-rate debt dropped 0.07 cent to 98.32 cents today, the lowest level this year, according to the S&P/LSTA Leverage Loan 100 index. The gauge has gained 0.6 percent, following an advance of 5 percent last year.
Investors who have been pouring money into funds that purchase leveraged loans need to be wary of a reversal in demand, according to Justin Gmelich, the head of credit trading at Goldman Sachs Group Inc., who likened the inflows into loans to a one-way freight train in a question-and-answer session posted on the company's website Feb. 25.
Turning 'Tide'
"We know which way the tide is going, and we know it won't go that way forever, but we never know when it will turn," Oaktree's Marks said.
Oaktree was seeking $500 million for a fund that will invest in U.S. senior loans, according to a fund document seen by Bloomberg News in January. The firm's predecessor fund gathered $1.8 billion, surpassing its $1.5 billion target, John Frank, Oaktree's managing principal, said on an earnings call last year.
"You can't go on strike and refuse to buy the securities you're paid to invest in, because the market may not turn for months or years," Marks said. "Never forget the old adage, being too far ahead of your time is indistinguishable from being wrong. So you have to buy but with caution."