London Finance Jobs Rose 25% on IPO Uptick, Survey Says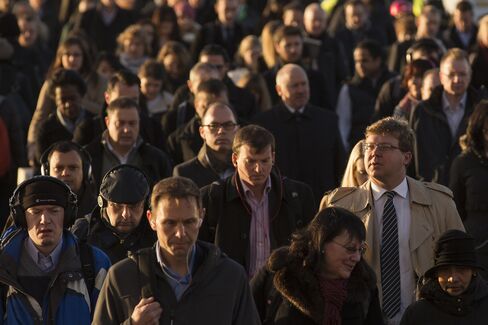 Job vacancies at London's financial-services companies rose by a quarter in February as the pick-up in initial public offerings spurred hiring by brokerage firms and smaller banks, according to a recruitment survey.
Job openings in the City and Canary Wharf financial districts increased to 3,220 in February from 2,575 a year earlier, London-based Astbury Marsden said in a statement today. About a third more new jobs were created in the City in the past three months compared with 2012 and 2013, it said.
"While IPOs are still quite a distance below pre-Lehman Brothers levels, if the market continues to rise from the doldrums of the last five years, these smaller and mid-tier investment banks are likely to increase their hiring," Astbury Chief Operating Officer Mark Cameron said in an e-mail.
Investor appetite for European equities helped companies raise about $35 billion in IPOs last year, more than double what they sold in 2012, according to data compiled by Bloomberg. That's carried into 2014 as economic conditions are becoming more favorable, with U.K. consumer confidence at its highest since 2007. Companies including retailer AO World Plc and McColl's Retail Group Plc raised more than $4 billion in London IPOs this year, the data show.