GPIF Pressure to Buy Stocks to Benefit Public, Ito Says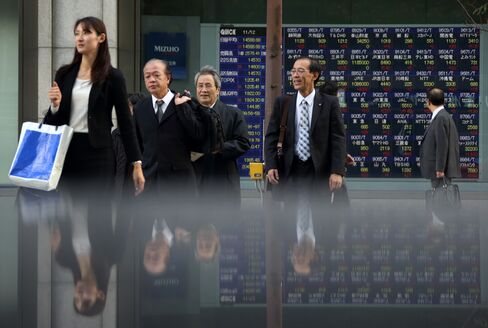 Pressure on the Government Pension Investment Fund to buy more stocks will benefit Japan's public as well as boost equity markets, said the head of a panel that advised on overhauling the world's biggest retirement fund.
"Some are concerned the GPIF reforms are a way to raise stock prices, but actually they're for pension recipients," Takatoshi Ito told the ruling Liberal Democratic Party in Tokyo today. "Improved returns would lead to lower future pension premiums and a higher level of future benefits."
The 128.6 trillion yen ($1.27 trillion) GPIF is under pressure to overhaul its investment strategy as Prime Minister Shinzo Abe and the Bank of Japan seek to revive the world's third-biggest economy and exit deflation. GPIF should not be used as a tool to push up stock prices and pressure to do so is unfair, Takahiro Mitani, the fund's president, told the Financial Times newspaper last month.
Investors are paying attention to everything Mitani says and does and he should be careful not to cause misunderstanding, Ito said today. Ito's government-appointed advisory panel urged GPIF in November to review domestic bond holdings and look at investing more in overseas assets.
"GPIF and others need to take more risk to increase returns," said Stuart Beavis, head of institutional equity derivatives at Vantage Capital Markets in Hong Kong. "Diversifying away from Japanese bonds will reduce risk -- not just buying Japanese equities but creating a more balanced global portfolio of assets. I think this will happen over time. The fund also has to show it is independent from politicians."
Diversify Assets
The Topix index sank 8.1 percent this year through yesterday, the biggest slump among 24 developed markets tracked by Bloomberg. Investors are questioning whether the Japanese premier can follow the first two parts of his Abenomics growth strategy -- monetary easing and fiscal stimulus -- with reforms needed to make the economic recovery sustainable.
GPIF must find a way to manage its money flexibly as well as broaden investments, Abe said to parliament on Feb. 24. The fund's basic stance is to diversify its assets, Mitani said in response.
The fund needs independence from the government and a radical change to its investment strategy, Ito said today. It should reduce domestic debt to 52 percent of assets in the next few months, the lower limit of its current policy, he said. Allocations need to be revamped to allow a more dramatic shift and GPIF should seek to mimic global peers, who have 35 percent to 40 percent of their portfolio in bonds, according to Ito.
Fewer Bonds
Japanese bonds accounted for 55 percent of the fund's portfolio at the end of December, the smallest share since GPIF was established in its current form in April 2006. The fund held 17 percent of its assets in local shares last quarter, 15 percent in foreign equities and 11 percent in overseas bonds, according to a statement on its website.
"I'm not sure how much of a pressure Ito is on GPIF," said Naoki Fujiwara, a Tokyo-based chief fund manager at Shinkin Asset Management Co. "It's not like they'll do things just because they are told to by him. If you look at the past, you can see that holding bonds helped them keep volatility low. It's important to keep some assets in bonds."
GPIF's target allocation to domestic bonds is 60 percent, with asset managers given permission to deviate from this by as much as 8 percent. The fund's target for local stocks is 12 percent, with a 6 percent deviation limit. The allocations will probably change in the middle of the year after the health ministry finishes its pension review, Ito said in a Feb. 14 interview.
Stock Investment
Japan's Nikkei 225 Stock Average surged 57 percent last year for its biggest annual advance since 1972 as Abe and the central bank's stimulus weakened the yen.
Nobody is saying the Japanese equity rally is a bubble, so this is a good chance for GPIF to buy local stocks, Ito said. The fund should put part of its assets in the JPX-Nikkei Index 400, a measure of companies with good return on equity, he said.
GPIF will form a partnership with Development Bank of Japan Inc. and Ontario Municipal Employees Retirement System to invest as much as $2.7 billion in infrastructure over the next five years, GPIF said Feb. 28.
"The partnership with OMERS on infrastructure projects is very positive," Vantage's Beavis said.