Citigroup's Mexican Loan Gone Bad Adds to Bondholder Pain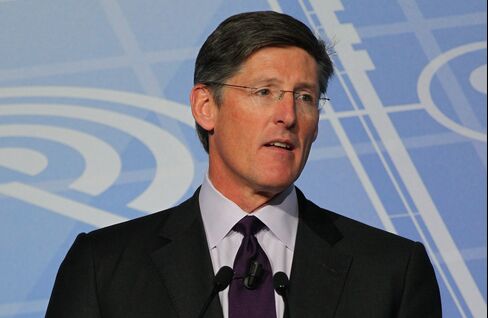 March 3 (Bloomberg) -- Interest rates topping 11 percent and collateral made up of aging vessels including a pair of almost 30-year-old tug boats helped lure investors to Oceanografia SA's sale of $335 million of bonds in 2008.
Now the debt due in 2015 is trading at 17 cents on the dollar, the company has been taken over by the Mexican government and Citigroup Inc. is alleging fraud.
Ray Zucaro, who manages $390 million at SW Asset Management LLC, said his firm decided not to bid on the Ciudad del Carmen, Mexico-based oil-services provider's latest debt sale -- $160 million of bonds in October that were pitched as an investment in Mexico's energy future. Those notes, which offered a 12 percent interest rate and were backed by the four-year-old OSA Goliath offshore construction vessel, were trading at 80.4 cents last week, highlighting the risks of early bets on Mexican President Enrique Pena Nieto's vision of an oil-fueled economic boom.
"We said, 'Why bother?'" Zucaro said by telephone from Newport Beach, California. "When you start to peel the onion back, what else are you going to get here?"
Citigroup, the third-largest U.S. lender, said Feb. 28 that as much as $400 million was misappropriated during the course of the alleged fraud, which was tied to loans backed by payments from state-owned oil producer Petroleos Mexicanos, known as Pemex.
Oceanografia Invoices
Invoices from Oceanografia processed by an employee of Citigroup's Mexican unit, known as Banamex, may have been falsified to show that Pemex had approved them, according to the statement from the New York-based bank.
Jorge Betancourt, head of investor relations for Oceanografia, said the company declined to comment on Citigroup's statement. He didn't respond to an e-mailed list of questions following the company's takeover by Mexico's government. No one answered a call to the company's main business line; a message said the voice mailbox was full and not accepting additional messages.
Oceanografia's notes due in 2015 lost more than half their value on Feb. 28. The swoon capped a 73.5 cent plunge since Feb. 11, the day the nation's anti-corruption agency said it banned the company from bidding on government contracts for 21 months because it violated agreements with Pemex. No dollar-denominated bond in emerging markets has fallen as much in that span.
Mexico's peso weakened 0.6 percent today to 13.3282 per dollar as of 2:43 p.m. in New York.
Legal Recourse
Oceanografia was seized by the Mexican government on Feb. 28 after Citigroup disclosed the alleged fraud and took a $235 million charge against its 2013 earnings.
"We are exploring our legal options and coordinating with law enforcement agencies in Mexico," Citigroup Chief Executive Officer Michael Corbat said in the Feb. 28 statement. The bank, "in coordination with Pemex, has worked with Mexico's Attorney General to initiate criminal actions in connection with this matter that, in addition to imposing just penalties on the responsible parties, may allow us to recover damages."
Mexico will protect the operations of Oceanografia and will attempt to recoup misappropriated funds, Attorney General Jesus Murillo Karam said at a Feb. 28 press conference in Mexico City. The attorney general's office is questioning workers in Banamex's credit department about the alleged fraud, according to two government officials with knowledge of the investigation who asked not to be identified because they weren't authorized to discuss the probe.
Bank Loans
Oceanografia's assets have been impounded, according to a Pemex press official who asked not to be identified, citing company policy. An investigation will cover more than 40 contracts with Mexico City-based Pemex, the official said.
Oceanografia has had trouble complying with bank loans in the past. In a filing reporting results from the first half of 2008, the company said it hadn't met covenants of a loan with Mexico City-based Grupo Financiero BBVA Bancomer SA, including leverage-ratio requirements.
In 2011, Oceanografia restructured two loans from Utrecht, Netherlands-based Rabobank Groep. About 220 million euros ($304 million) in principal of the restructured loan remained outstanding as of September, according to the offering memorandum for the company's 2018 bonds.
Oceanografia's notes due in two years are secured by seven vessels with an average age of 24 years and whose resale value probably isn't enough to compensate bondholders fully if they tried to seize the ships in a default, according to the notes' July 2008 prospectus.
Bond Collateral
The company's $160 million of securities due 2018 are secured by the OSA Goliath, which was bought from a unit of Minneapolis-based CarVal Investors LLC with proceeds of the offering. The ship has a value of about $245 million, based on estimates from Kennedy Marr Ltd. and Offshore Shipbrokers Ltd. provided in the bonds' offering memorandum.
Citigroup's new claims against Oceanografia will limit recovery values for under-collateralized creditors if Mexico liquidates the company, according to Revisson Bonfim, the head of global emerging-market analysis at Sterne, Agee & Leach Inc. in New York. The bonds may rally if the government decides to continue operating Oceanografia after the company's current projects with Pemex are complete, he said.
"The big question becomes, with the government taking over, what happens afterward?" Bonfim said in a telephone interview. "Will this company continue to be a going concern under the government, or will they just liquidate all the assets to repay creditors?"
Investor Protection
Luis Maizel, who manages about $5 billion of fixed-income securities as president of San Diego-based LM Capital Group LLC, said the government takeover of Oceanografia may ultimately benefit asset managers investing in Mexico's debt market. In the longer-term, "this should open up the capital markets instead of closing them," he said.
"The key signals right now are how fast this thing moves through the court system and how protected investors are," Maizel said by telephone. "They might handle it differently than they would in a different case because of the timing and when it happened."
In December, Mexican lawmakers approved legal changes to allow companies such as Irving, Texas-based Exxon Mobil Corp. and San Ramon, California-based Chevron Corp. to develop the country's oil fields. The passage of constitutional amendments altering energy laws, which the government has said will boost economic growth by 1 percentage point by 2018, spurred a credit upgrade from Moody's Investors Service last month to A3, Mexico's highest rating ever.
Oil Services
Oceanografia's failure will prompt money managers to demand higher interest rates from the country's oil-services providers going forward, according to Jim Harper, the director of corporate research at BCP Securities LLC in Greenwich, Connecticut.
Oro Negro Drilling Pte. Ltd., which provides oil and gas services, issued $725 million of debt due in 2019 on Jan. 8. The bonds yield 7.61 percent. Offshore Drilling Holding SA, a company that provides Pemex with three of its four ultra-deepwater rigs, sold $950 million of 2020 bonds in September.
"If you were to do it now, it'd be harder," Harper said in a telephone interview. The Oceanografia episode "increases risk aversion."
To contact the reporters on this story: Boris Korby in New York at bkorby1@bloomberg.net; Ben Bain in Mexico City at bbain2@bloomberg.net
To contact the editors responsible for this story: David Papadopoulos at papadopoulos@bloomberg.net; Brendan Walsh at bwalsh8@bloomberg.net