Black Ribbons and Hasty Oscar Tribute for Dead Film Crew Member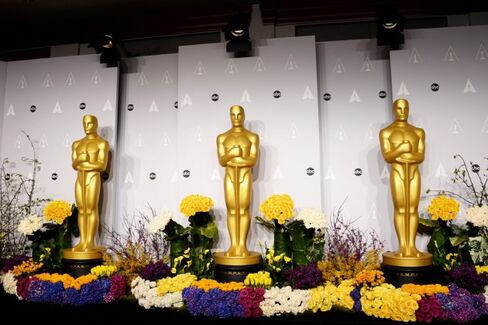 After an intense social-media campaign, the Academy Awards slipped in a tribute to Sarah Jones, the crew member killed on a movie set 10 days before the traditional memorial montage that airs during the Oscars ceremony. Jones was not, it should be noted, included in the actual "In Memoriam" segment of celebrities and other Hollywood figures who died in 2013, including James Gandolfini, Shirley Temple Black, and Philip Seymour Hoffman. The Academy for Motion Picture Arts & Sciences chose to flash a rectangular sliver with Jones's name and headshot across the bottom of the screen right before cutting to a commercial break, as the final notes of Bette Midler's Wind Beneath My Wings were still quavering in the air.
Still, it appeared to be enough to calm the restive online masses, some 60,000 of whom had signed an petition requesting that the Academy include her in the tribute. Some Oscar attendees also wore black lapel ribbons in her honor.
Jones, a 27-year-old camera assistant, was killed on Feb. 20 while working on Midnight Rider, a Gregg Allman biopic starring William Hurt that was filming near Savannah, Ga. The crew had been directed to set a bed up on a train trestle in preparation for the filming of a dream sequence. When a train unexpectedly arrived, traveling at high speed, crew members scrambled to get out of the way. The train smashed into the bed, knocking Jones onto the track, where she was struck and killed by the train. A handful of other crew members were injured.
The movie's producers, Unclaimed Freight Productions, and distributor, Open Road Films, initially said they had permission to be working on the tracks, but that account has come under dispute. The horrific—and avoidable accident has triggered an outpouring of debate about the unsafe conditions found on many film and television sets, where mostly union crews often work 15-hour days handling complex and sometimes dangerous equipment.
Earlier on Sunday, hundreds of friends and colleagues of Jones gathered for a memorial service at the Atlanta Botanical Garden. The group included crew members from the Hunger Games and The Vampire Diaries, the latter of which Jones had previously worked on.
"What I know and what I can tell you is that since this terrible accident happened, the IATSE and all of the members in Local 600, including staff in our offices, have been trying to figure out how this happened," Bruce Doering, national executive director of the International Cinematographers Guild union said during the service, according to Variety. "We are absolutely committed to taking the issue of unsafe conditions as far as we can take it, and we will take care of it just like Sarah did it: Full on."
Before it's here, it's on the Bloomberg Terminal.
LEARN MORE