Ukraine Tension Seen Stoking Oil, Gas Prices on Supply Risk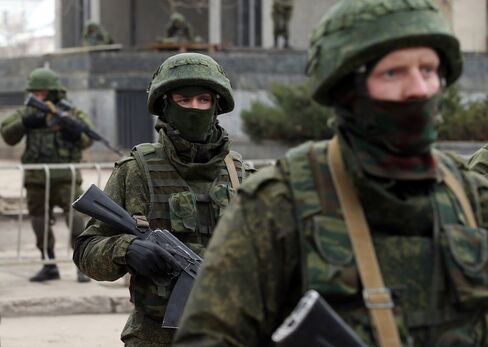 Oil and natural gas rose amid investor concern that escalating geopolitical tension over Ukraine could curb energy supplies.
Brent crude advanced as much as 2.2 percent to $111.41 a barrel on the ICE Futures Europe exchange in London today. U.K. gas for next-month delivery surged the most in more than 17 months, rising as much as 10.3 percent, to 61.95 pence a therm ($10 per million British thermal units). That's the highest price since Jan. 31.
"Russia controls the gas into Ukraine, which in turn has pipelines into Europe," Soeren Bo Duvier Nielsen, a senior energy sales manager at Nordea Bank AB in Singapore, said today. "The Europeans are heavily dependent on Russia in terms of gas. They are looking for alternatives but can't find them easily."
The standoff over Ukraine, the main conduit for Russian gas to consumers in Europe, intensified over the weekend as the former Soviet state put its forces on combat readiness and Russia's President Vladimir Putin threatened to invade. Wholesale gas costs jumped in January 2009 after Russian supplies via Ukraine halted amid a dispute over prices and transit terms. Europe's biggest gas stockpiles for at least four years are helping damp the impact of any potential stoppages.
Mild Winter
"If there were a disruption, and there's no sign of one yet, Europe is in a better position to handle such a situation," Robin Mills, the head of consulting at Manaar Energy Consulting and Project Management, said yesterday by phone from Dubai. "The Europeans have made a big push to develop gas storage and strategic interconnections between countries," including the Nord Stream pipeline from Russia to northern Germany, he said.
The mildest weather since 2008 reduced demand for gas, used for power generation and heating, and sent prices to their lowest level in two years. European gas demand in 2013 was at its lowest since 1999 and is set to drop further this year, erasing 16 years of growth, Societe Generale SA said Feb. 20.
Storage of the fuel in the U.K., the region's biggest market, is 25 percentage points above average for this time of year, while levels in the Netherlands are 19 points above the mean, data from National Grid Plc and Gas Infrastructure Europe showed last week.
'Incredibly Nervous'
Gas usage in the U.K. is near a 12-year low amid mild weather that cut heating demand. European gas storage was about 50 percent full on Feb. 23, against about 42 percent a year earlier, data from Gas Infrastructure Europe in Brussels show. U.K. gas slid from 68.91 pence on Dec. 31 on ICE Futures Europe.
"The market will be incredibly nervous, and that caution should push prices higher," Ole Hansen, a Copenhagen-based commodity strategist at Saxo Bank A/S, said yesterday by phone before trading resumed today.
U.S. gas futures jumped as much as 2.8 percent to $4.736 per million British thermal units in electronic trading on the New York Mercantile Exchange, after sliding 25 percent last week.
"Still, one thing is politics and the other is business. Russia needs revenue now so they can't afford to cut off gas supplies to Europe," Hansen said.
Russian Budget
Russia's biggest crude grade, Urals, is shipped from ports on the Black Sea, where Russia and Ukraine share a coastline, and the Baltic Sea. Hansen estimated that the Ukraine crisis would add a risk premium of as much as $5 a barrel to crude prices.
Russia receives about half of its budget revenue from sales of oil and gas. Graham Freedman, a senior analyst for European gas and power at Wood Mackenzie Consultants Ltd. in London, played down the risk of a supply disruption.
"There's a lot of saber-rattling," Freedman said yesterday by phone. "Until there's an actual conflict, Russian supplies to Europe are unlikely to be affected, as it wouldn't serve either side."
The Nord Stream link under the Baltic makes Russia less dependent on Ukraine as a transit state than in 2009, Richard Mallinson, an analyst at Energy Aspects Ltd. in London, said yesterday by phone. "We would need to see a prolonged supply halt before the market reacts," he said.
Before it's here, it's on the Bloomberg Terminal.
LEARN MORE