Obama Urges Netanyahu to Make Peace Now to Avert Fallout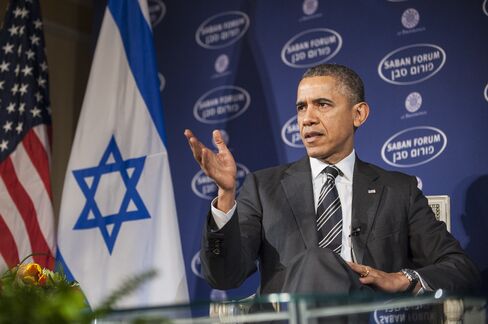 President Barack Obama urged Israeli Prime Minister Benjamin Netanyahu to "seize the moment" to make peace, saying time is running out to negotiate an Israeli-Palestinian agreement.
In an interview with Bloomberg View columnist Jeffrey Goldberg, the president said he believes Palestinian Authority President Mahmoud Abbas "is sincere about his willingness to recognize Israel and its right to exist."
"We are coming to a point, though, over the next couple of months where the parties are going to have to make some decisions about how they move forward," Obama said in the Feb. 27 interview. "And my hope and expectation is that, despite the incredible political challenges, that both Prime Minister Netanyahu and Abbas are able to reach past their differences and arrive at a framework that can move us to peace."
Obama spoke ahead of the annual policy conference of the American Israel Public Affairs Committee, the largest pro-Israel lobby group, where he's not scheduled to appear this year, and a planned meeting with Netanyahu at the White House today.
Netanyahu responded that "I won't give in to pressure."
"I want a deal," he told Israel's Channel 2 when asked about Obama's comments upon his arrival in the Washington area last night. "It has to be a good deal. I will stand up firmly for the vital interests of the state."
Increasing Extremism
Obama's call on the Israeli and Palestinian leaders to press ahead comes as both are facing increasing Islamic extremism in Syria and Iraq and unrest in Lebanon, Jordan and Egypt. Those threats and uncertainties have sparked resistance to making compromises now, which is expected to be highlighted at the Aipac conference that began yesterday. Netanyahu addresses the group tomorrow.
Pressing Netanyahu not to put off the hard decisions on peacemaking, Obama invoked the prime minister's nickname and paraphrased the words of Rabbi Hillel, the revered Jewish sage.
"When I have a conversation with Bibi, that's the essence of my conversation," Obama said. "If not now, when? And if not you, Mr. Prime Minister, then who? How does this get resolved?"
If the peace talks fail, Obama said, the U.S. will have limited ability to protect Israel from what he called "international fallout." While he wasn't specific, the Palestinians have threatened to join international organizations, including the International Criminal Court, as the nation of "Palestine," and Israel has expressed concern that it faces a growing divestment-and-boycott campaign.
"There's no reason to put pressure on Israel," Israeli Minister of Intelligence and Strategic Affairs Yuval Steinitz said today on Army Radio. "We want peace, we want to advance toward a diplomatic agreement, but we are justified to be concerned and worried for our national security."
'International Fallout'
"If you see no peace deal, and continued aggressive settlement construction -- and we have seen more aggressive settlement construction over the last couple years than we've seen in a very long time -- if Palestinians come to believe that the possibility of a contiguous, sovereign Palestinian state is no longer within reach, then our ability to manage the international fallout is going to be limited," the president said.
Similar comments by Secretary of State John Kerry have fueled controversy.
Kerry's remarks about the risks of a new intifada, or Palestinian revolt, and the boycott, divestment and sanctions -- or BDS -- movement were criticized in Israel for suggesting that the nation should make concessions under pressure.
In his interview with Goldberg, Obama praised the "extraordinary job" being done by Kerry, who's trying to conclude what he calls a "framework" that lays out areas of Israeli-Palestinian agreement and points the way to a final-status peace accord creating an independent Palestinian state.
Security Needs
Obama also said Kerry has explored Israel's security needs with the help of retired General John Allen, the former U.S. commander in Afghanistan. "They've come up with a plan for how you would deal with the Jordan Valley, how you would deal with potential threats to Israel, that are unprecedented in detail, unprecedented in scope," Obama said.
On the issue of Iran, the president restated his objections to imposing additional sanctions during the six-month negotiations to curtail that nation's nuclear activities.
He didn't comment on Netanyahu's demand that Iran be prohibited from conducting uranium enrichment, a process for making fuel for civilian reactors that could be further enriched for a nuclear weapon.
Iran's Ambitions
Obama and Netanyahu have had rocky periods, particularly over how to deal with Iran's nuclear ambitions, which Israel considers an existential threat that could require unilateral military action if the U.S. fails to deal adequately with the issue.
In a column over the weekend in the Washington Post, Steinitz set out Israel's line on barring uranium enrichment.
"A final deal that allows Iran to retain centrifuges for uranium enrichment ultimately would allow the development of nuclear weapons in Iran, encourage a Sunni-Shiite arms race in the Middle East and weaken counter-proliferation efforts worldwide," he wrote.
Netanyahu has publicly expressed his dissatisfaction with the current six-month interim accord, under which Iran received a limited easing of some economic sanctions in return for curtailing elements of its nuclear program.
Israel on Sanctions
Israeli officials warned that sanctions would start to unravel and, over Obama's objections, allied with its American supporters to press Congress unsuccessfully for further sanctions. Those issues figure prominently on the agenda during the Aipac conference, which heard from Treasury Secretary Jack Lew yesterday and is scheduled to hear from Kerry today.
In the interview, Obama dismissed arguments that the limited sanctions relief is leading businesses to rush back to Iran. He said 95 percent of the sanctions remain in place and "we're going to enforce them, and we've been enforcing them during the course of these discussions."
Asked how Iran views his "all options on the table" threat, which alludes to the possibility of U.S. military action if Iran seeks the ability to produce nuclear weapons, Obama said, "I know they take it seriously."
"We have a high degree of confidence that when they look at 35,000 U.S. military personnel in the region that are engaged in constant training exercises under the direction of a president who already has shown himself willing to take military action in the past, that they should take my statements seriously," he said. "And the American people should as well, and the Israelis should as well, and the Saudis should as well."
Kerry's Goal
Kerry, who's made 11 trips to the region for Israeli-Palestinian negotiations since talks restarted in July, initially said his goal was to reach a peace deal by the end of April, then scaled that back to say he hopes to produce a "framework" that would enable to talks to continue beyond the nine months to which both sides committed.
Other officials on both sides have criticized the process and raised doubts about whether Kerry can achieve a meaningful framework dealing with disputed issues such as borders and the future of Jerusalem, where Palestinians want to establish the capital of their new state.
'Right of Return'
Abbas, who is due to meet with Obama on March 17, has objected to the inclusion of language demanded by Netanyahu recognizing Israel as a Jewish state. The Palestinians regard that phrase as surrendering their claimed "right of return" for Palestinian refugees and their descendants to go back to homes and land from which their families were displaced by Israel's creation in 1948. Netanyahu has said the Palestinian position is a non-starter.
Obama provided no details on the negotiations, which he described as "intense, detailed and difficult conversations." Kerry has kept him informed on the process "almost weekly" and "occasionally asks for direction," he said.
The president said he hasn't commented on the negotiations much in recent months because "it doesn't serve anybody's purposes for me to be popping off in the press about it."
Obama did say the Israelis have a promising negotiating partner in Abbas, whom he described as "sincere about his willingness to recognize Israel and its right to exist, to recognize Israel's legitimate security needs, to shun violence, to resolve these issues in a diplomatic fashion that meets the concerns of the people of Israel. And I think this is a rare quality not just within the Palestinian territories, but in the Middle East generally. For us not to seize that opportunity would be a mistake."
Palestinian Demographics
Some Israeli officials have taken the opposite view, with intelligence minister Yuval Steinitz in January calling Abbas the most anti-Semitic leader in the world.
Netanyahu has a chance to resolve a long-running dispute and "lock in a democratic, Jewish state of Israel," Obama said. The president took note of the challenge posed by the rising Palestinian population, a demographic issue that could make Israel a bi-national state unless it ends the occupation of lands it captured in the 1967 war with its Arab neighbors.
"For him to seize this moment, it is perhaps the greatest gift he could give to future generations of Israelis," the president said. "But it's hard. And as somebody who occupies a fairly tough job himself, I'm always sympathetic to somebody else's politics."
Mom's Advice
"One of the things my mom always used to tell me and I didn't always observe, but as I get older I agree with, is if there's something you know you have to do, even if it's difficult or unpleasant, you might as well just go ahead and do it -- because waiting isn't going to help," Obama said.
Turning to Syria, where the death toll in the three-year civil war has passed 130,000, Obama didn't indicate any new policy initiatives intended to speed the end of the regime headed by President Bashar al-Assad. He said the U.S. continues to look for a way to resolve the conflict politically while the world "does have to try to find a better answer to the immediate humanitarian situation."
"I've looked at a whole lot of game plans, a whole lot of war plans, a whole bunch of scenarios, and nobody has been able to persuade me that us taking large-scale military action -- even absent boots on the ground -- would actually solve the problem," Obama said. "We have to make sure that what we do does not make a situation worse or engulf us in yet another massive enterprise at a time when we have great demands here at home and a lot of international obligations abroad."
Before it's here, it's on the Bloomberg Terminal.
LEARN MORE