Lenta's IPO Sinks in First-Day Trading: Russia Overnight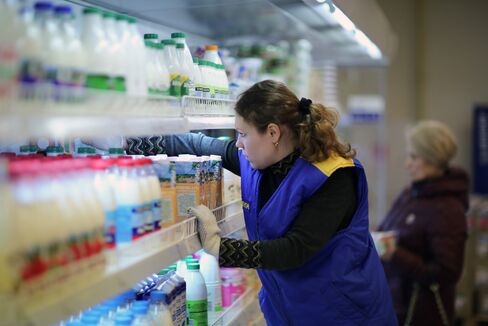 Lenta Ltd.'s initial public offering last week provided a warning to other Russian retailers looking to sell shares as the ruble plunges, the economy slows and tension with neighboring Ukraine mounts.
Lenta, Russia's second-biggest hypermarket chain, slumped as much as 3.4 percent on the first day of trading in London after selling the shares at the bottom of its $10-to-$11 price range. Lenta closed down 1.5 percent at $9.85. Detsky Mir, a children's goods store chain, said Feb. 26 that it's looking to list in London while German retailer Metro AG said a month earlier that it plans to sell shares of its Russian unit, Cash & Carry, in the first half of the year.
Investors are fleeing the stock market, sending the benchmark Micex Index down 2.9 percent last week, as concern Russia would invade Ukraine drove the ruble down against the dollar and added to concern that the economy is slowing. Ukraine, which put its military on full combat alert, told its neighbor that a military intervention would be an act of war.
"The timing for an IPO is critically important," Kirill Yankovskiy, director for equity sales at UralSib in London, said by phone Feb. 28. "And maybe now is not the best time for Detsky Mir and Metro's IPO."
Lenta, Detsky Mir and Metro Cash & Carry's spokesmen weren't available for comment after regular business hours.
Shareholders led by U.S. fund TPG Capital raised $952 million in Lenta's IPO, which valued the company at $4.3 billion. The price range was narrowed to $10 to $11 per depositary receipt Feb. 25, according to two people with knowledge of the matter. The range was reduced from $9.50 to $11.50 earlier.
Consumer Spending
Russian retailers from OAO Magnit to OAO Dixy Group have tumbled as the nation's economy grew at less than half the previous year's pace in 2013 and officials warned the outlook remains weak for this quarter. The $2 trillion economy decelerated for a fourth year as consumer spending, the mainstay of Russia's recovery, failed to make up for sagging investment and a drop in global demand for oil and natural gas.
"Lenta has managed to jump into the last car of the departing train," Anton Rakhmanov, the head of Sberbank Asset Management in Moscow who helps manage $5 billion, said in a telephone interview Feb. 28. "Russian retailers have no chance to place their shares anywhere near that high multiples during the next few years as consumer demand in Russia weakens."
Detsky Mir asked for regulator approval of its London listing of 184.7 million shares, according to a filing last week. Metro AG, Germany's biggest retailer, confirmed in January that it plans to proceed with a partial IPO of its Cash & Carry Russian unit to raise money for expansion.
The Bloomberg Russia-US Equity Index slumped 1.5 percent to 88.36 last month. The Market Vectors Russia ETF, the largest dedicated Russian exchange-traded fund, declined 3.2 percent to $24.44. Futures on the RTS stock index dropped 0.5 percent to 125,660 in U.S. hours.
United Co. Rusal, a Moscow-based aluminum producer, was little changed in Hong Kong trading as of 9:50 a.m. local time. The MSCI Asia Pacific Index fell 1.2 percent.