Venezuelan Protesters Maintain Momentum Amid Carnival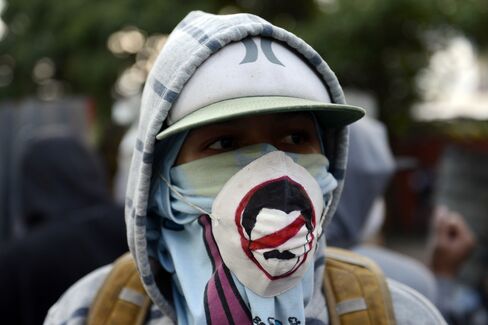 March 2 (Bloomberg) -- Venezuelan student leaders called a march for today as the opposition tries to maintain the momentum of anti-government protests during a six-day holiday that has tempted many of their compatriots to the beach.
The rally started at 11 a.m. local time and began from four separate points, each representing an opposition complaint -- rising crime, censorship, shortages and impunity -- student leader Juan Requesens said on his Twitter account. The demonstration comes on the fourth day of the carnival holiday, which President Nicolas Maduro extended by two days this year as he looked to end two weeks of protest.
"Today again demonstrated that the people of Venezuela are with the students," Requesens said.
Opposition leaders such as Maria Corina Machado also participated in a motorcade yesterday to press for the release of protesters detained by the government. Some drivers with slogans painted on their windows parked at Plaza Altamira and joined students calling for the fall of the government.
"We are not political leaders, we're students protesting here," Alfredo Martinez, 28, said yesterday from Plaza Altamira, the center of recent protests. "I have been robbed three times, they killed my brother three years ago, I am here for everything."
"We are tired of this government, it's been 15 years of insults, of being pushed aside," said Leonardo Velasco, 25, whose father used to own a business selling computer equipment and now drives a taxi. "Now you can't get food, the minimum wage is an abomination," he said yesterday from the square.
On the Streets
Machado said that opposition leaders were calling on all Venezuelans to remain on the streets in defense of liberty and democracy.
President Maduro said Feb. 28 that he is open to meeting with student protesters and opposition leaders as the death toll from demonstrations rose.
"The country would gain if we met and talked, with respect as always," Maduro said in a nationwide address, after calling on two-time presidential hopeful Henrique Capriles to hold talks. "We are inviting actors, artists, private and public entities, opposition leaders, students, governors, mayors, the Catholic Church and whoever wants to participate."
Maduro spoke after the opposition alliance, which has boycotted two meetings with the president, said it would negotiate only when he shows respect and offers an agenda worked out with mediators. In a message passed on by his wife, opposition leader Leopoldo Lopez said the invitation lacked sincerity, considering the government jailed him and is looking to arrest his political coordinator, Carlos Vecchio.
41 Freed
"If the government wants to again listen to our requests, they should give the student movement a chance to talk on national television," Requesens said. "The government wants dialogue and the students want a country full of opportunities. We will continue in the streets."
Authorities released 41 people detained during the evening of Feb. 28 in Altamira, including an Italian photo-journalist and a Portuguese national, according to a representative from the office of Alfredo Romero, a lawyer and head of the Venezuelan Penal Forum. The representative spoke on condition of anonymity citing company policy. Many of the detained were students in their early twenties, the representative said. They included eight foreigners, the state television network said.
"This is a small victory next to those that we have yet to rescue: democracy and liberty," Constitutional Lawyer José Vicente Haro said on his Twitter account.
Violent Protests
At least 17 people have been killed and 261 injured since protests erupted in Caracas on Feb. 12, Public Prosecutor Luisa Ortega said Feb. 28. Maduro later said a member of the National Guard had been killed in the city of Valencia.
"This demonstrates that in these violent and terrorist protests, foreigners are involved," Jorge Valero, Venezuela's ambassador to the United Nations, said in an interview with Noticias24 Radio yesterday. "These fascists are trying to create a blood bath in the country."
Adan Manzano, a protest leader in Altamira, said attacks by national guard and pro-government armed groups are angering protesters who have been in the plaza since demonstrations started on Feb. 12.
"We don't know what's going to happen," Manzano, 24, said. "We're going to try to keep it peaceful. We're still here and we're going to stay here."
Unlike previous evenings, the police didn't use tear-gas against protesters in the Caracas neighborhood of Altamira yesterday.
'Still Here'
Capriles, governor of Miranda state who lost to Maduro last year in elections to succeed former President Hugo Chavez, has called on the Catholic Church to serve as mediator and insisted the government release Lopez, who was detained last week on charges of inciting violence. Vecchio is wanted on similar charges, said his party, Voluntad Popular.
The government has made moves to address complaints about police repression by arresting eight intelligence officers over the alleged murder of two people during protests on Feb. 12. The Information Ministry declined to comment on whether the government has issued an arrest warrant for Vecchio.
Venezuela's Information Minister Delcy Rodriguez said yesterday in an interview with HispanTV that the government's response to what she termed "fascist attacks" had respected human rights.
Human Rights
"We will not tolerate, nor will the citizens permit, that we are walked over from an economic or political point of view," Rodriguez said. "We will defend the homeland and principally we will defend a Venezuela that is free, sovereign and independent."
Amid the discontent, the president has taken steps to address a dollar shortage that has crimped imports, causing scarcities of everything from chicken to paper.
Bank of America Corp. and Barclays Plc both recommended buying Venezuelan bonds after the government published rules Feb. 24 allowing companies and individuals to trade dollars in a regulated market. Venezuela's benchmark 9.25 percent dollar bonds due in 2027 rose 0.54 cent on the dollar to 72.29 cents on Feb. 28.
Previously, the central bank was the sole supplier of greenbacks and as foreign reserves fell, less currency was made available to pay for imports. Annual inflation accelerated to 56.3 percent in January, the fastest among 113 world economies tracked by Bloomberg.
Venezuela's economic growth will slow this year to 0.5 percent from an estimated 1.2 percent in 2013, in both instances falling short of the Latin American average, according to analysts polled by Bloomberg in early February.
To contact the reporters on this story: Pietro D. Pitts in Caracas at ppitts2@bloomberg.net; Jose Orozco in Caracas at jorozco8@bloomberg.net
To contact the editor responsible for this story: Philip Sanders at psanders@bloomberg.net