Winter Storm Aims at U.S. East as Commute Starts Monday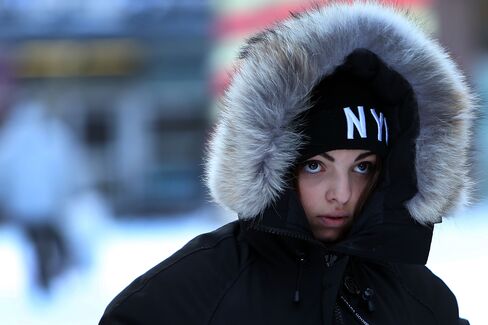 The 28th snowfall of the season is aiming at New York City for the start of the workweek as a storm threatens to coat roads with snow, sleet and ice from Washington to Boston.
New York City may get 8 to 10 inches (20 to 25 centimeters) of snow and Philadelphia 6 to 8 on top of a coating of ice, the National Weather Service said.
"The most likely scenario is the Monday morning commute will be the most impacted, and that impact could be significant," said Joey Picca, a weather service meteorologist in Upton, New York.
Wave upon wave of storms this winter has grounded tens of thousands of flights, frozen pipes, collapsed roofs and disrupted business across the U.S. New York has had 27 storms since December with at least a trace of snow, weather service data show. Insured losses have reached more than $1.5 billion since Jan. 1, according to the Insurance Information Institute in New York.
A fatigue has set in with the continuous forecasts for snow, sleet and ice, said Gary Best, a meteorologist at Hometown Forecast Services Inc. in Nashua, New Hampshire.
"Now that we are getting into March, this stuff is getting too old and people are sick of it," Best said.
The timing of the next storm is almost certain to disrupt flights in and out of the Northeast on March 3 as well as making the commute to work a challenge.
"It's a great way to start the week," said Tom Kines, a meteorologist with AccuWeather Inc. in State College, Pennsylvania.
So far this winter, 57.3 inches of snow has fallen in Central Park, making the season New York's seventh-snowiest on record, the weather service said. The mark was set in 1995-96, when 75.6 inches fell.
Philadelphia Outlook
Freezing rain and sleet are expected to start falling in the Philadelphia area on the afternoon of March 2 before changing over to snow during the night, said Mitchell Gaines, a weather service meteorologist in Mount Holly, New Jersey. March 3 will start with all snow.
"It's going to be a fairly slick rush hour on Monday if you are out and about," Gaines said by telephone. "You want to leave some extra time and be very cautious driving to work."
Public Service Enterprise Group Inc., owner of New Jersey's largest utility, today was arranging for tree trimmers and other contractors to supplement its own repair crews starting March 2, the company said in a statement.
Further to the south, forecasters still aren't sure if the storm will bring rain, ice or snow to Washington, said Amy Bettwy, a weather service meteorologist in Sterling, Virginia.
"There is still a lot of uncertainty," Bettwy said by telephone. "We have high confidence that there will be a storm coming through on Sunday night into Monday; the uncertainty lies in the time and the precipitation type."
Clearer Idea
Through the weekend, forecasters will get a clearer idea of where the divider between rain and snow will be, she said.
In Boston, snow is likely starting late on March 2 into March 3. However, the weather service won't have firm accumulation forecasts until tomorrow, said Alan Dunham, an agency meteorologist in Taunton, Massachusetts.
The forecasts may change before the system makes its way across the Midwest to the eastern U.S., Best said. It's possible Boston could be spared any heavy snow, while Washington might pick up some accumulation, he said.
The system will start dropping snow tomorrow across the Midwest, Kines said. Chicago will be on the northern fringe and may pick get a few inches.
A winter storm warning has been issued from eastern Kansas and Oklahoma to western Pennsylvania.
Before it's here, it's on the Bloomberg Terminal.
LEARN MORE