Ukraine Says Reserves Enough to Cover Debt Payments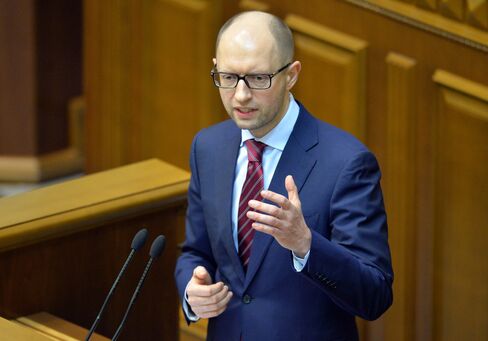 Ukraine's new government said it had enough reserves to pay all creditors as the country started negotiations for an International Monetary Fund loan.
Ukraine is ready to meet all of the Washington-based lender's demands and is seeking additional foreign currency in the short term to increase reserves and stabilize its finances, Prime Minister Arseniy Yatsenyuk told reporters in Kiev today. An IMF mission will arrive next week, central bank Governor Stepan Kubiv said.
The hryvnia plunged to a record low this week as ethnic tensions at home and Russian military maneuvers nearby rattle investors. Ukraine's new government, confirmed by lawmakers yesterday after a bloody uprising toppled the administration of ex-President Viktor Yanukovych, is seeking as much as $35 billion in international aid over the next two years to avert a default. The U.S. and the European Union pledged assistance.
"We are working on clear steps for receiving financial aid," Yatsenyuk said. "I spoke to the U.S. treasury, to the EU chiefs. We hope for rapid credit instruments and that we will get additional foreign currency."
The hryvnia appreciated 7.5 percent to 9.95 per dollar, according to data compiled by Bloomberg at 2:24 p.m. in Kiev, after weakening to as much as 11.31 yesterday, the lowest level since it was introduced in 1996, data compiled by Bloomberg show. The yield on Ukraine's dollar-denominated bond due in 2023 dropped three basis points, or 0.03 percentage point, to a four-day low of 9.59 percent.
Deposit Controls
The central bank is limiting access to foreign-currency deposits, Kubiv said. The monetary authority, under previous leadership, imposed capital controls Feb. 6 as its reserves dwindled amid market interventions to shore up the hryvnia.
Kubiv in a Feb. 26 interview said the country was weighing measures to stem cash withdrawals after as much as 7 percent of deposits were taken from banks during last week's bloody uprising. He estimated reserves at about $15 billion, compared with $17.8 billion at the end of January.
The country's debt was affirmed today by Fitch Ratings at CCC, eight steps below investment grade and below Greece's and Egypt's. Ukraine's political risk "remains high and the transition of power has a range of outcomes," the credit evaluator said from London.
External Financing
"Ukraine's ability to obtain external financing will largely depend on how quickly it can form a new government that has broad popular acceptance and set out a coherent economic policy programme," Fitch said.
The IMF is "ready to respond," Managing Director Christine Lagarde said in a statement. A fact-finding mission "will enable the IMF to make its usual technical, independent assessment of the economic situation in Ukraine," she said.
EU countries will probably be able to offer Ukraine aid of a "similar dimension" to the $1 billion loan guarantee proposed by the Americans., German Foreign Minister Frank-Walter Steinmeier told reporters in Washington late yesterday, after talks with U.S. Secretary of State John Kerry.
Ukraine's dollar notes due in June traded at 94.91 cents on the dollar today, up from 94.15 yesterday.
Steinmeier is due to discuss the aid package today with Lagarde. Yatsenyuk earlier told lawmakers in Kiev that the Yanukovych regime had moved $70 billion into offshore accounts, leaving state coffers "empty and robbed."
U.S. Vice President Joe Biden called Yatsenyuk last night to welcome the formation of a new government and to assure the prime minister of full U.S. support as Ukraine works to shore up its economy and pursue constructive relations with its neighbors, the White House said in a statement.
President Vladimir Putin instructed the Russian government to discuss financial aid to Ukraine with the IMF and the Group of Eight, his spokesman Dmitry Peskov said. Russia last week suspended a $15 billion bailout agreement Putin and Yanukovych signed in December.