Japan's GPIF to Invest $2.7 Billion in Infrastructure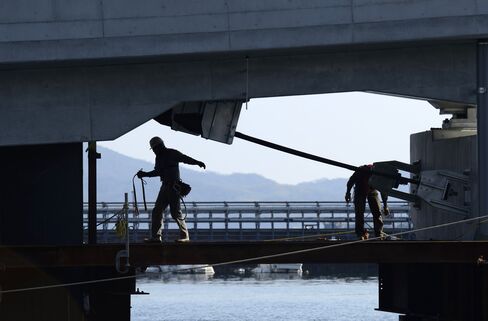 Japan's Government Pension Investment Fund, the world's largest pool of retirement savings, will invest as much as $2.7 billion in infrastructure over the next five years.
The Japanese fund will form a partnership with Development Bank of Japan Inc. and Ontario Municipal Employees Retirement System to make the investments, GPIF said at a briefing today in Tokyo.
GPIF is under pressure to revamp its strategy and reduce holdings of domestic bonds, the world's lowest-yielding sovereign debt, as Prime Minister Shinzo Abe and the Bank of Japan seek to spur inflation. An expert panel in November advised the fund to consider putting money into infrastructure, overseas assets, private equity, commodities and real-estate investment trusts.
"The amount isn't big enough to have much of an impact on the market, but it makes you think we may hear soon that GPIF will make a full-fledged shift from JGBs to risk assets," Ayako Sera, a Tokyo-based market strategist at Sumitomo Mitsui Trust Bank Ltd., said by phone today. "That's more important than today's announcement itself."
Japanese bonds accounted for 58 percent of GPIF's 124 trillion yen ($1.22 trillion) portfolio as of the end of September, with 16 percent in domestic stocks. Overseas equities made up 13 percent and foreign bonds 10 percent.
GPIF may cut its foreign debt holdings to raise the cash for the infrastructure investment, Tokihiko Shimizu, director general for the research department at GPIF, said at the briefing. It won't be long until the first investment, he said, without being more specific.
Before it's here, it's on the Bloomberg Terminal.
LEARN MORE