IMF History With Ukraine Leaders May Cloud Aid Negotiations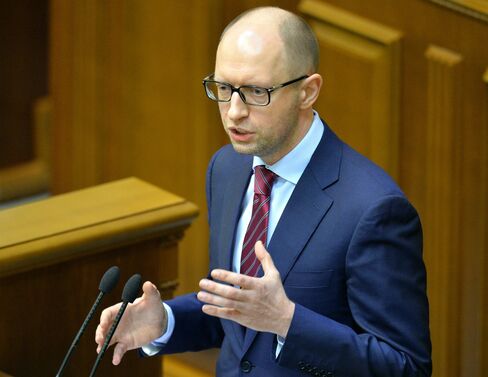 The International Monetary Fund has extensive experience lending to Ukraine in recent years. It's not a track record favoring the country as it seeks aid to stave off default.
Twice since 2008, the IMF froze loans to the former Soviet republic after governments at the time balked at measures they had agreed to carry out. After failed attempts to revive loan talks with Ukraine, the Washington-based lender concluded in December it shouldn't commit as much money to nations that don't embrace economic change.
The challenge facing interim Prime Minister Arseniy Yatsenyuk is convincing IMF officials burned by his predecessors that he'll adopt unpopular measures such as raising gas prices before May presidential elections. Hinging on his success: aid the U.S. and European Union are tying to an IMF-approved bailout as the government seeks an initial $15 billion to stabilize its finances after its bloodiest unrest since World War II.
For the IMF, "lessons learned from Ukraine are going to be applied to any future program in Ukraine," said Douglas Rediker, who represented the U.S. on the board of the IMF from 2010 to 2012. "The government has to believe in the program" and "prove that it understands what it needs to do to make the program a success by actually doing it."
The deliberations over the aid package are occurring amid rising tensions, as armed troops occupied Crimea's main airport in Simferopol, while deposed President Viktor Yanukovych said he's still the eastern European country's rightful leader.
'Reform' Pledges
As IMF Managing Director Christine Lagarde announced a team would travel to Kiev in coming days to assess the economic needs, fund spokesman Gerry Rice told reporters yesterday that Ukraine's leadership is pledging "wide-ranging reforms." Rice said he didn't wish to "make comparisons between different governments."
"I will be probably the most unpopular prime minister in the whole history," Yatsenyuk told Parliament before being approved yesterday, heralding decisions on cuts in subsidies and welfare payments and later calling his job a "political kamikaze" mission. "But we will do everything possible to avoid default."
The IMF has heard such promises before.
In loans dating back to 1994, "usually the IMF had made two quarterly disbursements and then stopped because the Ukrainian government has refused to comply with the IMF conditions," said Anders Aslund, a senior fellow at the Peterson Institute for International Economics in Washington.
IMF Negotiations
He said he expects the fund in this negotiation "will be tough and demand very strict prior actions" before offering support.
Under a $16.4 billion loan in November 2008, when Yulia Timoshenko was prime minister, Ukraine pledged to let its currency float and to balance its budget, in part by raising energy prices.
The fund froze the loan after a year, ultimately canceling and replacing it with a $15.2 billion package in July 2010 with similar prescriptions under Yanukovych, who defeated Timoshenko in presidential elections. Disbursements on that program stopped the following year as the country again failed to meet conditions.
The fund's waning patience showed at a press conference last year when Reza Moghadam, head of the IMF's European department, said talks "would only succeed if we can see a degree of seriousness" in addressing the country's challenges.
Bilateral Aid
After a three-month uprising led to Yanukovych's ouster last week, European and U.S. officials say they now want Ukraine to get financial help fast.
U.S. Secretary of State John Kerry said yesterday that the administration is talking with lawmakers about providing a $1 billion loan guarantee. German Foreign Minister Frank-Walter Steinmeier, in Washington for talks with U.S. officials and the IMF, said the EU is likely to offer a similar amount.
The two diplomats said they would like to see a financing plan include the involvement of Russia, which pulled back from a $15 billion aid package after Yanukovych fled. Dmitry Peskov, a spokesman for Russian President Vladimir Putin, said in a statement yesterday that Russia will talk to American and European officials about it.
"I hope the IMF stands ready to provide funds from a kind of emergency fund," Steinmeier told reporters in Washington yesterday after meeting with Kerry.
Needs Assessment
Steinmeier said it will take time to figure out Ukraine's financial condition in the wake of the collapse of Yanukovych's government.
"It's difficult for anyone to give you an exact idea of how much Ukraine needs," the German minister said. "Yanukovych has kept the figures hidden under his desk."
Lagarde, who met with Steinmeier today, agreed it's premature to estimate financial needs, while urging Ukrainian authorities to refrain from "throwing lots of numbers" around. The IMF doesn't see "anything that is critical, that is worthy of panic at the moment," she told reporters in Washington.
After the IMF starts its assessments of Ukraine's financial needs, "there's then going to have to be a real put-up-or-shut-up discussion with key shareholders like the U.S. and EU member countries about parallel or complementary support," said Andrew Weiss, a former director for Russian, Ukrainian, and Eurasian Affairs on the White House National Security Council staff.
Now that Ukraine's central bank has abandoned a dollar peg, letting the hryvnia depreciate, two remaining IMF conditions are a smaller budget gap and higher gas prices, Peterson's Aslund said.
Energy Bills
The fund estimates that energy subsidies in Ukraine reached about 7.5 percent of the country's economy in 2012 because prices for residential gas and district heating cover just "a fraction of economic costs," spurring consumption and adding to losses of the state energy company, NAK Naftogaz Ukrainy.
While IMF spokesman Rice acknowledged that the IMF can move "very quickly," he said "we do have our processes and we need to follow those and pay attention to proper due diligence."
Weiss is skeptical that the IMF's conditions will be met.
The measures needed "would be bad for both the people of Ukraine, in terms of shouldering pain, and the political fortunes for the people who will be running for president at the end of May," said Weiss, now vice president for studies at the Carnegie Endowment for International Peace in Washington. "All that stuff to me seems quite improbable."
Before it's here, it's on the Bloomberg Terminal.
LEARN MORE