MSG's Hank Ratner Is Replaced as CEO by Cablevision's Tad Smith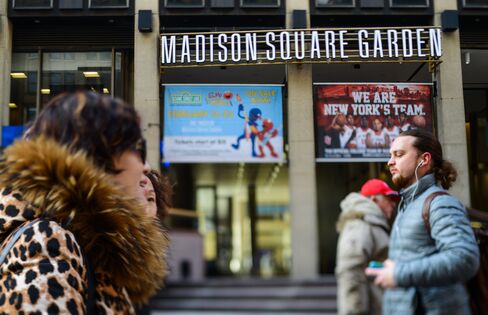 Hank Ratner stepped down as president and chief executive officer of Madison Square Garden Co. and will be succeeded by Tad Smith at the owner of the New York Knicks and Rangers.
Ratner, 54, had been CEO since 2009 and oversaw the $1 billion, privately financed renovation of the company's namesake arena, completing the three-year project in 2013. Smith is president of local media for Cablevision Systems Corp., MSG's parent until a spinoff in 2010. MSG shares fell 2.95 percent to $57.01 yesterday in New York.
"Hank Ratner has a long and successful track record of being in the public eye," said Needham & Co. senior analyst Laura Martin. "He just completed the transformation on time and on budget and has garnered incremental credibility. Wall Street doesn't know Tad Smith. That will add uncertainty to the share price. Expect the stock to react negatively."
Ratner, who joined Cablevision as assistant general counsel in 1987, will remain with MSG as vice chairman and join its board, the company said in a news release. He will continue to help MSG, which also owns Radio City Music Hall, set its corporate direction and work closely with Smith, it said.
"The perception was that the Garden is back, and the fact that he's being moved to vice chairman suggests that there's going to be continuity," said Maxim Group analyst John Tinker, who doesn't own the stock and rates the shares as a "buy." Yesterday's news doesn't change his rating, he said.
Finished Project
"But it also may just be as simple as: huge project, got it finished, he can go on the board, get involved and take life a little more easily," Tinker said. "That doesn't mean there was any financial issue."
Smith, 48, has a master's of business administration from Harvard University. He joined Cablevision in 2009 to oversee their newly created local media group. Unlike Ratner, he's not an attorney.
Smith came to Cablevision in 2009 from Reed Elsevier Group Plc, the owner of the LexisNexis database, where he was the CEO of its U.S. division. At Cablevision he oversaw the company's digital and linear television advertising sales division; News 12 Networks; and Newsday Media Group, whose assets including Long Island newspaper Newsday and the free daily newspaper amNewYork.
'Unique Ability'
"Over the last five years, Tad's unique ability to grow organizations and identify key talent has helped to guide Cablevision during a period of unprecedented change," James Dolan, MSG's executive chairman, said in a statement. "We are confident that he is the ideal executive to lead MSG into a new chapter of the company's history and to seize the opportunities that lay ahead."
Ratner's move comes two months after MSG Chief Financial Officer Bob Pollichino said he would retire in the autumn of this year. Pollichino started work for Cablevision in 1977 and moved to MSG in 1998.
"I am extremely proud of our record of success, which has not only marked a period of tremendous growth, but also ensured the company is well positioned for the future," Ratner said in a statement. "I am honored to have played such a meaningful role in MSG's evolution, and look forward to continuing my relationship with the company in my new role."
The company is divided into three parts: MSG Sports, Media and Entertainment.
MSG also includes a regional sports network, as well as the Beacon Theatre in New York and the Forum in Inglewood, California.
MSG Revenue
Ratner spent seven years as MSG's vice chairman under Dolan before the spinoff.
MSG in January said it had second-quarter revenue of $509.4 million, beatings analysts' estimates of $497.4 million.
"The single biggest frustration with MSG is that it hasn't committed to return capital to shareholders," said Martin, who rates MSG "buy" and doesn't own the shares. "If Tad reverses that, expect the shares to rise."
The Knicks ended February at Madison Square Garden with a fifth straight loss and eighth defeat in nine games, 126-103 to the Golden State Warriors. New York is 21-38, 11 1/2 games behind the Atlantic Division-leading Toronto Raptors. The Rangers are 33-24-3, second in the National Hockey League's Metropolitan Division.
Before it's here, it's on the Bloomberg Terminal.
LEARN MORE