WPP Falls Most in Four Years as Exchange Rates Hurt Margins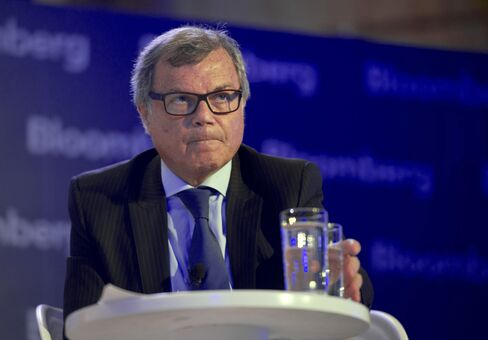 WPP Plc fell the most in more than four years as a strong British pound hurt profitability and led the world's largest advertising company to miss its earnings-margin target.
Currency fluctuations cut the profit margin by 0.2 points last year, the London-based company said today. Revenue increased 6.2 percent to 11 billion pounds ($18.3 billion), close to the 11.1 billion-pound average estimate of analysts in a Bloomberg survey. The shares fell as much as 7.1 percent.
"The currency impact on margin reduced growth," Paul Richards, a media analyst at Numis Securities in London, wrote in a note. To counter the effect of "reduced margin guidance" the group is increasing its share buyback program, he said.
WPP also reiterated its target to raise revenue from fast-growing markets and digital operations by as much as 45 percent of total sales in the next five years. The company, whose ad agencies include Ogilvy & Mather and Young & Rubicam, will lose its top spot in the industry when rivals Publicis Groupe SA and Omnicom Group Inc. complete their merger. Publicis's sales rose 5.2 percent last year.
"Following a major strengthening of sterling against most of the faster growth markets' currencies, we missed our margin target in reportable sterling terms," WPP said in today's statement.
The shares fell as much as 95 pence to 1,236 pence, the biggest intraday drop since July 2009. The stock was down 5.2 percent at 1,262 pence as of 9:39 a.m. in London, taking the decline to 8.6 percent this year.
Fast-Growing Markets
The pound has gained 13 percent in the past year, the best performer among 10 developed-nation currencies tracked by Bloomberg Correlation-Weighted Indexes. That outpaces a 1.5 percent gain by the U.S. dollar on that basis.
In markets including Asia Pacific, Latin America and Europe, revenue growth was fastest in the fourth quarter, up 8.2 percent in constant currency and 6 percent on a like-for-like basis.
"If I have any regrets in last 10 years is that we didn't go in faster" to emerging markets, which have the strongest margins at WPP, Chief Executive Officer Martin Sorrell said in an interview. "Despite slowing down, they are growing faster than the rest."
Sorrell said the company made a good start to 2014, with like-for-like revenue rising 5.7 in January. WPP will continue its focus on business in digital operations and fast-growing markets and is aiming for like-for-like sales growth of more than 3 percent in 2014.
Facebook Advertising
WPP will spend $650 million on Facebook Inc. advertising this year and about $3 billion at Google Inc., he said.
Billings for 2013 totaled 46 billion pounds and growth this year is being fueled by the World Cup in Brazil, the Winter Olympics in Sochi and mid-term Congressional elections in the U.S..
Publicis and Omnicom, which announced in July that they are combining, are awaiting approval from Chinese regulators, after receiving clearance in all other jurisdictions including the U.S. and Europe.
Sorrell said WPP "sees lots of opportunities" to win big business accounts from Publicis and Omnicom in light of the merger. WPP is also picking up executives from the two companies, he said.
Further ad industry consolidation this year is possible with candidates including France's Havas SA and Japan's Dentsu Inc., Sorrell said. WPP will continue to focus on small and medium-sized targets, budgeting as much as 400 million pounds for takeovers this year.