Will Drone Cargo Ships Sail the Seven Seas?
Rolls-Royce's plans for unmanned ships have raised industry hackles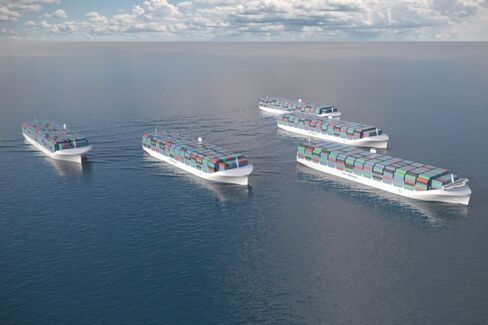 The prospects for driverless cars and aerial drones delivering packages for Amazon.com made headlines in 2013. But when Oskar Levander, Rolls-Royce Holdings' vice president for innovation in marine engineering, advocated drone cargo ships at an industry conference last May, the audience scoffed and other panelists dismissed the idea. The skeptics haven't deterred the London-based maker of engines and turbines. "If everybody in the industry would say, 'Yes, this is the way to go,' " Levander says, "then we are too late."
Rolls-Royce has created a virtual-reality drone prototype in Norway that simulates 360-degree views from a vessel's bridge. Eventually, it says, captains on land will use similar gear to command fleets of crewless ships. Rolls-Royce figures the drones would be safer, cheaper, and less polluting for the $375 billion shipping industry. "Now the technology is at the level where we can make this happen, and society is moving in this direction," says Levander.
The European Union is funding a €3.5 million ($4.8 million) study of unmanned vessels, with researchers readying a digital prototype for simulated sea trials next year. Even so, maritime operators, insurers, engineers, labor unions, and regulators doubt unmanned ships could be safe and cost-effective anytime soon. "I don't think personally that there's a huge cost benefit in unmanned ships today," says Tor Svensen, chief executive officer of maritime for DNV GL, the largest certifier of vessels for safety standards.
Crew costs account for some 44 percent of operating expenses for a large container ship, says consulting firm Moore Stephens International. Levander says ships would be 5 percent lighter when empty and burn up to 15 percent less fuel if the bridge, where the crew lives, were replaced with cargo space and the electricity, air conditioning, water, and sewage systems for the crew area were eliminated.
The International Association of Classification Societies, a ship safety group, hasn't set guidelines for drone ships, Permanent Secretary Derek Hodgson says. "Can you imagine what it would be like with an unmanned vessel with cargo on board trading on the open seas?" he asks. "You get in enough trouble with crew on board."
Unmanned ships are illegal under international conventions, which set minimum crew sizes. If drones don't comply with such rules, they'd be considered unseaworthy and ineligible for insurance, says Andrew Bardot, executive officer of the International Group of P&I Clubs, whose members insure 90 percent of the global fleet.
The International Transport Workers' Federation, which represents about 600,000 seafarers, is also opposed. "The human element is one of the first lines of defense in the event of machinery failure and the kind of unexpected and sudden changes of conditions in which the world's seas specialize," Dave Heindel, chairman of the ITF's seafarers' section, said in an e-mail.
Levander counters that crews will offer no safety advantage once equipment improves for remote control, preventive maintenance, and emergency backups. Plus, he says, cameras and sensors can already detect obstacles in the water better than the human eye. "It's a given that the remote-controlled ship must be as safe as today," Levander says. "But we actually think it can be even safer."
Before it's here, it's on the Bloomberg Terminal.
LEARN MORE