Republicans Opposed to Yellen Flee Paul in Search of Rules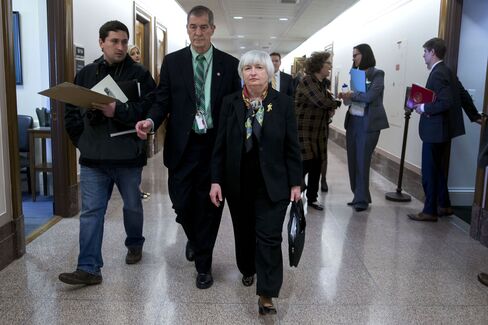 Republican lawmakers are seizing on a monetary-policy debate that's older than the Federal Reserve itself as a means of hemming in the central bank as it enters its second century.
Led by House Financial Services Committee Chairman Jeb Hensarling of Texas, they've accused the Fed of following a haphazard, discretionary policy that investors have found hard to fathom and that has done little to help the economy, even as it recovers slowly from the worst crisis since the 1930s. As an alternative, they want Fed Chair Janet Yellen and her colleagues to adopt a rules-based approach that they say would be more understandable and reliable.
"We are into an improvisation phase where an incredible amount of discretionary power has been imparted upon the unelected and relatively unaccountable," Hensarling said in an interview. "I don't think that is good for promoting long-term economic growth."
The debate over rules versus discretion also has resonated recently within the Federal Open Market Committee. A "couple" of FOMC participants noted that some standard policy rules suggested that the Fed should raise interest rates before the middle of the year, according to the minutes of the committee's last meeting on Jan. 28-29. Others argued that such action was "not appropriate in current circumstances."
One such guideline, developed by Stanford University Professor John Taylor, links alterations in monetary policy to changes in inflation and the economy.
Taylor Rule
Applying the Taylor rule would call for the Fed to raise its short-term interest-rate target to 1.25 percent from effectively zero now. Taylor, who served in the Treasury Department under President George W. Bush, said in an interview from his office near Palo Alto, California, that he wouldn't advocate such a move immediately because financial markets wouldn't be prepared for it.
Yellen, 67, told Hensarling's committee in a Feb. 11 hearing that she has "always been in favor of a predictable monetary policy that responds in a systematic way to shifts in economic variables." The trouble is that rules like Taylor's aren't applicable now because "the conditions facing the economy are extremely unusual."
After the worst recession since the Great Depression, the economy has struggled to recover, growing at a 2.4 percent annual pace since June 2009 compared with the 2.8 percent average of the last 30 years. After picking up in the second half of last year, the economy has shown signs of slowing as data on retailing, manufacturing and home construction have come in weaker than forecast.
Yellen Testimony
"A number of data releases have pointed to softer spending than many analysts had expected," Yellen told the Senate Banking Committee today. "Part of that softness may reflect adverse weather conditions. But at this point it is difficult to discern exactly how much."
The argument over monetary-policy rules dates back to the middle of the 19th century, when British parliamentarians were debating the structure of the Bank of England. Those who favor discretion argue that central bankers need leeway to respond to changes in the economy. Supporters of rules contend that a more predictable policy is superior because it enables companies and consumers to better plan for the future.
Gold Standard
The gold standard is seen by many economists as the "ultimate monetary-policy rule," said Benjamin Friedman, a professor of political economy at Harvard University in Cambridge, Massachusetts. Under that regime, countries effectively linked the supply of money in their economies to the amount of gold they held.
President Franklin D. Roosevelt took the dollar off the gold standard in 1933. President Richard Nixon broke the last link to gold in 1971, ending the ability of foreign central banks to convert dollars into a fixed quantity of the metal.
Former Representative Ron Paul, a Texas Republican who unsuccessfully ran for the presidency in 2008 and 2012, has advocated a return to the gold standard. Hensarling doesn't see that happening: "I think that ship has long since sailed."
The increased focus on rules isn't surprising given the lengths to which the Fed went in order to contain the financial crisis and promote an economic recovery afterward, Friedman said. Those measures included programs to pump liquidity into the financial markets, successive rounds of bond purchases, lowering the benchmark interest rate to zero in late 2008 and increasingly specific guidance on the Fed's interest-rate intentions.
Extraordinary Measures
"This is not your father's Federal Reserve," Hensarling said. "The extraordinary measures of 2008 have seemingly morphed into the ordinary measures of 2014."
Hensarling said he supports Paul's proposal to subject the Fed's operations, including its monetary policy, to a full audit. Yellen has opposed such a move, saying it would interfere with the central bank's independence to set policy.
The Fed has already compromised its independence "to some extent" by acting as "facilitator and financier" of government debt through its bond purchases, Hensarling said.
"Behaving with an extreme amount of discretion has compromised their independence as well," he added.
His committee is planning what it called an "aggressive series of hearings" this year with the aim of developing legislation to change how the central bank operates. Announced in 2013 to coincide with the Fed's 100th anniversary, the project will focus, among other things, on the central bank's "role in the explosion of the national debt" and "the impact accommodative monetary policy has on seniors."
Sound Dollar
Representative Kevin Brady, the chairman of Congress's Joint Economic Committee, last year reintroduced his bill to overhaul the Fed after originally proposing it in 2012. Called "The Sound Dollar Act," the proposal by the Texas Republican would narrow the central bank's focus to price stability, eliminating its mandate to promote full employment.
The legislation, with 52 co-sponsors, also would restrict the Fed's asset holdings to Treasury securities, speed the release of transcripts from FOMC meetings and give all 12 of the Fed's regional bank presidents permanent votes on monetary policy instead of rotating them. The measure faces an uphill battle in the Democratic-controlled Senate, where a companion version has been introduced by Utah Republican Mike Lee.
Predictable Policy
"We need to replace the Federal Reserve's current dual mandate with a predictable rules-based monetary policy that focuses on preserving the purchasing power of the dollar," Brady told a meeting of the National Association of Business Economics in Arlington, Virginia, on Feb. 25.
Taylor, appearing before the Financial Services Committee after Yellen testified on Feb. 11, advocated passage of legislation that would require the Fed to adopt a monetary policy rule of its own choosing. If the central bank deviated from that guideline, the head of the Fed would have to explain to Congress why it did so.
He acknowledged that Congress was "by no means close" to enacting such a measure.
Taylor told the House panel that the economy has performed better when Fed policy was patterned on his monetary rule -- a contention backed by research by academics Alex Nikolsko-Rzhevskyy, David Papell and Ruxandra Prodan covering the period from 1965 to 2008.
"The data speak for themselves," said Nikolsko-Rzhevskyy, an assistant professor at Lehigh University in Bethlehem, Pennsylvania.
Greenspan's Fed
By departing from the Taylor rule and running an excessively easy policy starting in 2003, the Fed under then-Chairman Alan Greenspan helped fuel the housing boom that eventually went bust, according to Taylor.
Greenspan has taken issue with that assertion. Noting that more than a dozen countries experienced real-estate bubbles in the early years of this century, he has pinned the blame on a worldwide decline in long-term interest rates brought on by an excess of global savings, rather than on the Fed's manipulation of short-term rates.
The former Fed chief, though, has said that the Taylor rule accurately describes about 80 percent of the actions that the central bank has taken over the years.
At a January 1995 meeting of the FOMC, then Fed Governor Yellen said "sensible central banks" follow a rule tying changes in interest rates to deviations of both inflation from its target and economic output from its potential. Unlike Taylor's more inflation-focused guideline, hers puts equal weight on divergences in both variables.
Asked by Hensarling on Feb. 11 whether she is a sensible central banker, Yellen replied, "I believe that I am."
"These are very unusual times in which monetary policy for quite a long time is not even been able to do what a rule like the Taylor Rule would have prescribed," she said.
Before it's here, it's on the Bloomberg Terminal.
LEARN MORE