Forget Pizza; Domino's Makes More Money Selling Ingredients
Domino's Pizza this week reported a 7.4 percent revenue boost in 2013, a jump of about $123.8 million—and most of it didn't come from selling more pizzas. No, Domino's primary business is actually selling more pizza ingredients—dough, cheese, toppings—to its franchisees and company-owned stores.
Domino's supply-chain business, which extends from ingredients to restaurant equipment, generated 56 percent of its revenue last year, or about $1 billion. The rest came from retail sales at 390 U.S. company-owned stores (19 percent), royalty fees paid by nearly 4,600 U.S. franchise locations (12 percent), and international supply chain and restaurants (13 percent). To motivate restaurant owners to buy from the company, Domino's shares the profit from its supply-chain sales with restaurants that purchase all their food from this service.
It's not the only pizza chain with this model. Papa John's ingredients business, which it calls "domestic commissary," represents 40 percent of sales.
Obviously, increased orders from restaurants can boost supply-chain revenue, but so can fluctuations in commodities. Domino's passes along any change in commodity costs to its restaurant customers, with a fixed dollar margin. Pricier commodities mean higher food costs for restaurants, even though the fixed markup doesn't yield higher profits. Take the recent spike in cheese prices: Domino's said in its annual report that higher cheese prices lifted supply-chain revenue by approximately $8.6 million last year, or about 7 percent of the company's overall $123.8 million increase.
Retail prices, however, don't rise with commodities—not immediately, anyway. "The industry is far too competitive for that," and typically, increases in one commodity are offset by decreases in others, said Domino's spokesman Tim McIntyre in an e-mail. Other factors help maintain margins, too. The operating margin at company-owned Domino's restaurants was hurt by food costs last year, although that pain was offset by higher same-store sales and lower labor, occupancy, and insurance expenses. In the end, store operating margins increased slightly despite that pricier cheese.
Cheese prices are expected to decline through 2014, according to Papa John's (see chart below), and Domino's expects food costs to be flat to slightly lower than last year. So don't expect commodity prices to boost pizza revenue again in 2014.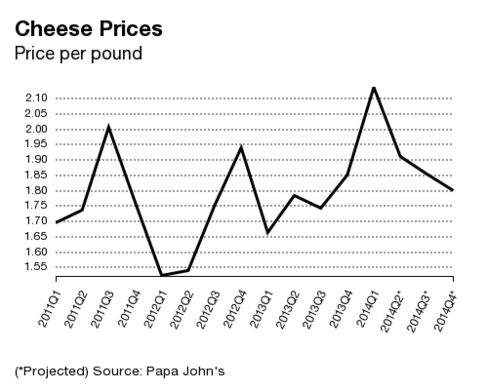 Before it's here, it's on the Bloomberg Terminal.
LEARN MORE