Afghanistan Mineral Riches Won't Go Anywhere Without Rail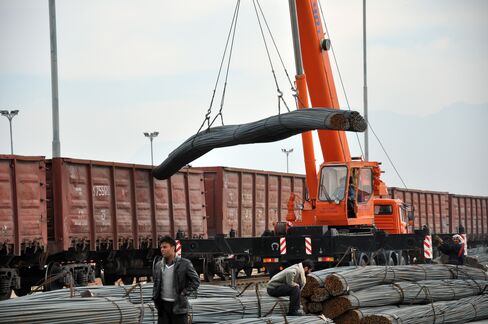 Supervisor Atta Mohammad watches the cranes swivel and workers at the Naibabad freight terminal rush to unload wheat and construction material from Uzbekistan that's just arrived on Afghanistan's only railroad.
The cargo has to be transferred to trucks to reach the rest of the country through the icy passes in the Hindu Kush mountains that loom over the featureless desert because the 75-kilometer (47-mile) railway ends a short distance from the terminal near the northern town of Mazar-e-Sharif.
The short stretch of track is intended to be the start of 3,600 kilometers of rail that will be the key to unlock Afghanistan's mineral riches, including iron, copper and gold. In 2010, the Pentagon estimated that Afghan minerals charted by the U.S. Geological Survey were worth some $1 trillion. In 2011, the Afghan government put the estimate at $3 trillion.
"Actually it's $30 trillion -- the U.S. knocked a zero off to keep our assets a secret," Afghan President Hamid Karzai told Indian investors in December. He offered no support for his estimate, and investment in Afghan mining so far has been led by groups from China and India, not the U.S.
All the projections of Afghan riches suffer from the same weakness. They all assume that the minerals can be mined, transported and exported from a country ravaged by decades of warfare and facing growing uncertainty as the U.S. and its allies prepare to withdraw their combat forces by the end of this year.
Finding Money
Afghanistan's 25-year plan envisions rail connecting the country with existing lines beyond its borders, Ahmad Shah Wahid, Afghanistan's deputy minister for public works, said in an interview in his Kabul office. The routes would connect to the north with lines running across Central Asia from China to Europe, to the east and south to Pakistan, and to the west to Iran.
The biggest impediment is finding the billions of dollars needed to build such a national rail network.
"Railways are absolutely vital" to carry landlocked Afghanistan's mineral riches "to the neighboring countries that have access to ports" to reach world markets, said Joji Tokeshi, country director in Kabul for the Asian Development Bank, which provided a $165 million grant that covered 97 percent of the cost of building the short railway from Uzbekistan to Mazar-e-Sharif.
"But it'll take a huge investment that cannot be done by the government alone or donors alone," he said.
Even if the money can be raised, trains, tracks and trestles would be vulnerable to sabotage by the Taliban and other militants armed with improvised explosive devices, mortars, rocket-propelled grenades and other weapons as Afghan forces take over from the U.S. and allies.
Trackside Police
"There are a lot of challenges they need to overcome, both in terms of security in building it and in maintaining the rail line," said U.S. Army Major Timothy Christensen, director of a rail advisory team that's assisting the Afghans.
The Afghan government, Christensen said, has stationed 470 police officers to protect the track that passes the Naibabad freight terminal, which is about 0.02 percent the length of the proposed national rail network.
The American team has recommended that villages along rail routes be given a stake in their safety by developing projects that benefit the communities, Christensen said in a phone interview from Kabul. Security "is a challenge, but it's not insurmountable, and you try to mitigate it the best you can."
Indian Investors
So far, the Afghan government's strategy has been to require companies that win mine-extraction bids to build railroads connecting their mines with networks in neighboring Iran and Pakistan.
An $11 billion iron ore project in Hajigak, in Bamiyan province 100 kilometers west of Kabul, has been delayed by a group led by Steel Authority of India Ltd., a company controlled by India's government, in part because of differences over who should pay for a railroad.
The original plan envisaged an 800-megawatt power plant, power transmission lines and a 900-kilometer rail line from Hajigak to Zahedan, Iran, to carry the ore to the Iranian port of Chabahar on the Persian Gulf, about 690 kilometers south.
Although the Indian group remains committed to the mining project, "we expect the Afghan government to provide us some basic facilities, such the rail network connecting the mine to the port," C.S. Verma, chairman of the New Delhi-based Steel Authority, said in an e-mail. "We plan to go in a phased manner and make the investments over a period of 10-12 years."
Domestic Needs
The Indian group also has considered cutting back its investment amid the security risks, according to two people with knowledge of the matter who asked not to be identified.
Saying the Indian investors aren't retreating from their longterm commitment, Abdul Jamil Hares, Afghanistan's deputy minister of mines, said in an interview that investors want to start by supplying Afghanistan's domestic needs of about 1.5 million metric tons of steel a year.
When Chinese investors won a bid to mine copper at Aynak, 50 kilometers south of Kabul, they pledged to lay a stretch of rail, according to Afghanistan's Finance Minister Omar Zakhilwal.
"When Aynak comes into operation, we definitely expect there'll be a portion of railway from Aynak to Torkham or Peshawar" on the border with Pakistan, Zakhilwal said in an interview in Kabul.
Buddhist Artifacts
Seven years after the investors, led by the state-owned China Metallurgical Group, won with a $3 billion bid, the project is mired in delays. In addition to security threats, the company has had to wait to allow excavation of Buddhist artifacts found at the site.
Then surveys last year found that Afghanistan lacks the reserves of phosphates necessary to smelt copper, said Hares, the deputy minister of mines.
"It doesn't mean they're not willing to process inside the country," Hares said of the Chinese. "We're in negotiations to find a way," he said, without elaborating.
Other projects have been delayed because the Afghan parliament has yet to approve changes in the country's mining law that would let investors secure exploration and extraction rights for minerals in a single bid, eliminating uncertainty for investors, Hares said.
Even if the law is passed, "without having proper infrastructure we cannot extract any minerals from Afghanistan," said Hares, who said foreign governments and aid agencies also are being asked to help build railroads.
Design Work
Aid agencies including the Asian Development Bank, as well the U.S. advisory team and its Afghan counterparts, have started design work on a 336-kilometer rail line that will begin at Aquina in Turkmenistan and pass through Sheberghan and Mazar-e-Sharif in Afghanistan to connect with Tajikistan in the northeast, Christensen said.
"As I look at the length of the track, the terrain that must be overcome and the bridges that will need to be built, I would expect the cost to be around $1 billion," Christensen said. "But we will have to wait for the detailed engineering" that has begun "before we have a better estimate."
The Turkmenistan-Afganistan-Tajikistan line would connect oil and gas fields in northern Afghanistan to a transport network, Christensen said. Work has yet to begin on a southern line linking Afghanistan's minerals to ports in Iran and Pakistan, he said.
Hindu Kush
Rough calculations show that the cost of a nationwide railway would run from $2 million a kilometer on flatlands to as much as $17 million a kilometer along the Salang Pass that cuts through the Hindu Kush, said Wahid, the deputy minister. That doesn't include the cost of locomotives and freight cars.
Even when donors invest to build railway or roads, Afghanistan doesn't have the resources to maintain them, Wahid said. Then there's the need for Afghans to learn how to operate a railway.
Unlike its neighbors Pakistan and India, whose railways were built by the U.K. during colonial rule, railroad construction in Afghanistan never got started.
While Afghans study how to operate and maintain a railway, operations on the 75-kilometer line to the Naibabad terminal are managed by Sogdiana Trans, an offshoot of Uzbekistan's state-owned railway company, which built the line in 2011.
On the wind-blown desert where the Naibabad terminal is located, trucks line up on a gravel road abutting the concrete-topped unloading area where bundles of iron rods for construction are piled up.
Like the rail line, the terminal is a work in progress, said Mohammad, the terminal supervisor. "Because of the limits of the space here, so once 50 workers come, they are able to unload 30 to 35 wagons and load them into trucks and deliver it to other parts of the country," he said. That translates into 80 truckloads of cargo a day bound for the rest of the country.
Before it's here, it's on the Bloomberg Terminal.
LEARN MORE