Toyota Names Designer as Lexus Chief to Boost Sales Outside U.S.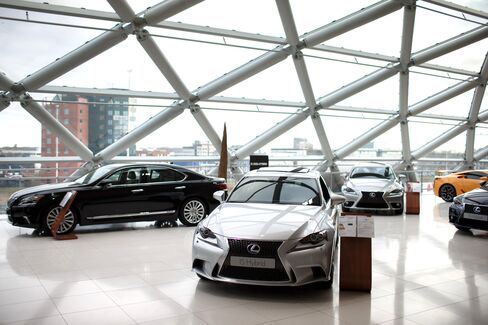 Toyota Motor Corp. promoted a former design chief to lead its luxury division as it seeks to extend the Lexus brand's reach in markets outside the U.S.
Tokuo Fukuichi, 58, becomes president of Lexus international operations effective April 1, taking over from Kiyotaka Ise, the Toyota City, Japan-based company said today in a statement. Fukuichi was previously one of two global Lexus executive vice presidents reporting to Ise, 62, and will remain chief officer of the company's design group.
President Akio Toyoda, the grandson of Toyota's founder, has pushed the world's largest automaker to add more "flavor" and "seasoning" to a car lineup panned for plain styling. Toyota is introducing new models such as the RC F performance coupe that debuted at January's Detroit auto show with spindle grilles and looks that the company describes as more aggressive.
Lexus set a global sales record of more than 523,000 vehicles last year, topping a previous best of 518,300 set in 2007. About half of the brand's worldwide deliveries were in the U.S., where sales climbed 12 percent to 273,847.
A new CT hybrid began arriving in Lexus's U.S. dealerships in January, and the RC F starts deliveries later this year. Toyota also is evaluating whether to sell the LF-NX crossover, shown at the Tokyo motor show in November, in the U.S. market.
Emerging Markets
Lexus aims to grow as much as 10 percent annually for the next 30 years as it expands in emerging markets including China, Vietnam, Brazil and Peru, Mark Templin, the second executive vice president for the luxury brand, said in a January interview at the Detroit auto show.
Templin, 53, has been a global executive vice president since April 2013, after having managed sales and marketing in the U.S. market.
Ise has been the top executive at Lexus since Toyota reorganized its luxury division as an international unit in June 2012. He becomes chief officer of the R&D group, according to the statement today.
Bayerische Motoren Werke AG's BMW and Daimler AG's Mercedes-Benz dethroned Lexus as the U.S. luxury sales leader since 2011 after the Japanese brand was No. 1 for 11 years. Toyota has said reclaiming leadership will be difficult because it has no plans to follow German brands in introducing entry-level vehicles priced below $30,000, such as Daimler's Mercedes-Benz CLA and Volkswagen AG's Audi A3.