Pope Francis Shakes Up the Vatican's Corporate Governance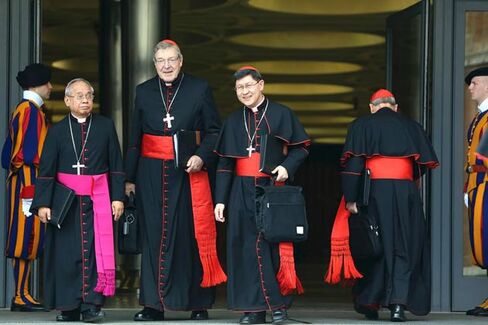 Corporate-style management is coming to the Vatican. In a sweeping overhaul of the Holy See's bureaucracy, Pope Francis is centralizing its budgetary and administrative functions while naming an auditor and outside experts to scrutinize its finances.
The pontiff has created a new Secretariat of the Economy headed by Cardinal George Pell of Australia and overseen by a 15-member council that includes seven lay experts "with strong professional financial experience," the Vatican said in a statement on its website.
The pope will directly oversee the new structure, which will include an auditor general who can conduct surprise audits "of any agency of the Holy See and Vatican City State at any time," according to the statement.
The changes reflect the Vatican's "formal commitment to adopting accounting standards and generally accepted financial management and reporting practices, as well as enhanced internal controls, transparency, and governance," the statement said.
Until now, Vatican departments have managed most of their own operations under the oversight of a 15-member council composed entirely of clerics.
Cardinal Pell, 72, is a former Australian football player and an outspoken advocate of greater financial transparency within the church. The pope named him last year to an advisory council on reforming the Vatican bureaucracy.
After less than a year in office, Pope Francis has already replaced top managers and board members at scandal-tarred Vatican Bank, while suspending a German bishop who built a lavish residence at church expense.
The latest management shakeup was announced in a decree in Latin, entitled "Fidelis Dispensator et Prudens," or "A Faithful and Wise Manager." That title "is taken from a passage in the Gospel according to Luke," according to the National Catholic Reporter, which summarized it: "Jesus tells a parable of servants who are put in charge of their masters' goods, and one is disciplined after he puts the goods to bad use."
Before it's here, it's on the Bloomberg Terminal.
LEARN MORE