Obama Orders Afghan Withdrawal Plan After Karzai Stalls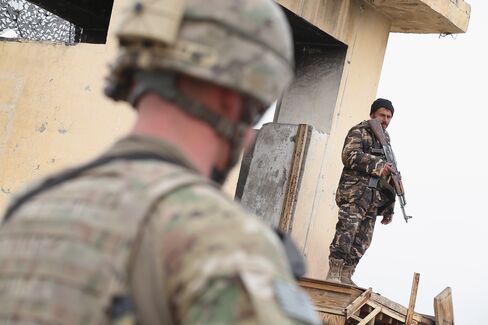 President Barack Obama ordered the Pentagon to ready a so-called zero-option plan for Afghanistan after an unsuccessful months-long campaign to pressure Afghan President Hamid Karzai to sign an agreement that would leave a residual U.S. force there after the end of the year.
Obama delivered the news to Karzai yesterday in a telephone call ahead of a North Atlantic Treaty Organization defense ministers meeting that begins today in Brussels, where the future of forces in Afghanistan will be a main topic.
The timing of Obama's move suggests he wants to give NATO members "a precise sense of where we stand," and to "enlist the allies in a more believable messaging to Karzai, because he obviously doesn't believe us," said Michael O'Hanlon, a defense analyst with the Brookings Institution in Washington. The announcement may be "an effort to make President Karzai believe this time we're really serious about a zero option in a way that until now he's discounted."
The president has promised to bring the more than 12-year conflict to an end this year, withdrawing all combat troops and leaving a smaller force to train the Afghan military and conduct counterterrorism operations. The White House has said previously that without a bilateral security accord, no U.S. troops can remain in Afghanistan.
Obama told Karzai that "because he has demonstrated that it is unlikely that he will sign the BSA, the United States is moving forward with additional contingency planning," according to a statement released by the White House.
'Very Explicit'
White House press secretary Jay Carney said Obama was "very explicit" about the U.S. stance with Karzai.
Obama is sending signals to "multiple audiences" including candidates vying to replace Karzai in April elections, Pentagon officials and other countries with a stake in how the U.S. exits Afghanistan, said Daniel Markey, a senior fellow with the Council on Foreign Relations.
"Are we really doing the zero option?" Markey said. "Today it looks like a leading contender, but it isn't a done deal. And nobody in region wants it, except maybe the Taliban."
A senior Pakistani official, who spoke on condition of anonymity because of the sensitivity of the subject, said Afghan security forces won't be able to defend their government, keep insurgents at bay and prevent a civil war without the continued training and support from the U.S.
U.S. Void
The official said Pakistani authorities have told U.S. officials they're concerned that terrorists, drug lords and criminal gangs will seek to fill the void left by U.S. forces. They have urged the Obama administration to wait for Afghan elections before making a decision. All 11 Afghan presidential candidates have pledged to sign the pact, and the U.S. shouldn't let its policy be held hostage to Karzai, the official said.
While Obama left open the possibility of reaching a security agreement later this year, he said the longer it takes, the smaller the residual U.S. force that will be left in the country for training and counterterrorism operations.
Karzai has increasingly strained relations with the U.S. In addition to refusing to sign a security accord that already had been agreed to and criticizing the U.S. role in his country, Karzai ignored Obama administration protests this month and freed 65 prisoners accused of killing civilians and soldiers who the U.S. said pose a threat.
U.S. Defense Secretary Chuck Hagel yesterday offered his "strong support" for Obama's decision, which he called a "prudent step" given Karzai's posture.
'No Mission'
Speaking at Langley Air Force Base in Virginia, Hagel said that "we can't make any commitment until we have a bilateral security agreement that protects troops" and "we are planning for different contingencies including no mission in Afghanistan after 2014, unless there's a bilateral security agreement."
U.K. Foreign Secretary William Hague told reporters after a meeting yesterday with U.S. Secretary of State John Kerry, that "our view is very much aligned with that of the United States," in terms of discussions about a full troop withdrawal from the country. "We've worked together in Afghanistan for many years. We do want to see the bilateral security agreement signed."
NATO's top commander, U.S. Air Force General Philip Breedlove, said earlier this month that because of political and budgetary timelines, several allied nations that have committed troops to Afghanistan can't wait long to decide what role, if any, they will play after this year.
The inability to reach a security pact in Iraq triggered a complete pullout of U.S. forces in 2011. The country since has been beset by sectarian violence.
'Poor' Prospects
A Congressional Research Service report in January said that if a post-2014 support mission isn't put into place "prospects for Afghan stability are poor."
As of Feb. 1, the U.S. had 34,000 troops in Afghanistan, the fewest since the 34,400 when Obama took office in 2009. The U.S. hasn't announced a schedule for further withdrawals.
U.S. public support for the Afghan war has been declining and a Gallup poll released Feb. 19 found that for the first time since the conflict began in 2001, about half of Americans say U.S. military involvement there was a mistake.
As of Feb. 18, 2,310 Americans had been killed in Afghanistan since the U.S. invaded the country after the September 11, 2001, terrorist attacks, and 19,650 had been wounded. The Pentagon put its Afghan costs at $516.9 billion, according to the latest tally through Sept. 30.
Before it's here, it's on the Bloomberg Terminal.
LEARN MORE