Mt. Gox Shutdown Prompts Bitcoin Damage Control Efforts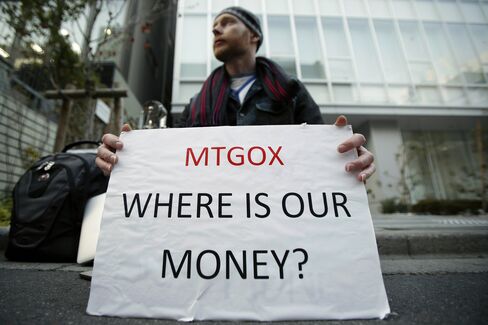 With the shutdown of Tokyo-based Mt. Gox, once the world's largest exchange for digital currency transactions, other companies in the Bitcoin universe worked to defend the nascent industry's reputation.
Reports that hackers may have pilfered more than $390 million in Bitcoin from Mt. Gox prompted companies from San Francisco to London as well as their industry group, the Bitcoin Foundation, to assure Bitcoin users that their funds won't disappear due to theft or mismanagement.
"This is certainly not the end of Bitcoin," the foundation said yesterday in an e-mailed statement. "As our industry matures, we are seeing a second wave of capable, responsible entrepreneurs and investors who are building reliable services for this ecosystem."
The shutdown of Mt. Gox comes after months in which the currency's price soared and it attracted increased attention from investors and customers and scrutiny from U.S. regulators over possible money-laundering and fraud.
"Absent rudimentary consumer protection rules -- even if voluntary -- I expect Bitcoin will receive some super-sized policy-maker attention," Bart Chilton, a commissioner at the Commodity Futures Trading Commission, said in a statement.
Went Offline
Mt. Gox, which had the largest market share of all digital currency exchanges as recently as April 2013, went offline yesterday, after halting customer withdrawals on Feb. 7. A document posted on the Internet labeled a "Crisis Strategy Draft" said Mt. Gox had lost 744,408 Bitcoins as a result of theft that "went unnoticed for several years."
There is no contact information on the paper and no one at Mt. Gox has publicly verified its legitimacy. Calls and e-mails to the company in Tokyo went unanswered.
Mt. Gox went offline to "protect the site and our users," according to a statement on its website. "We will be closely monitoring the situation and will react accordingly," it added.
Bitcoin prices rose 11 percent to $592.58 at 8:52 a.m. London time after slumping to as low as $418.78 yesterday, according to the CoinDesk Bitcoin Price Index. Prices have retreated from as high as $1,151 on Dec. 4.
The news on Mt. Gox triggered renewed calls for better security and consumer protection from several U.S. federal and state officials. Senator Tom Carper, a Delaware Democrat who held the first hearings in the U.S. Congress on Capitol Hill, said the potential losses at Mt. Gox underscored the need for clear rules sooner rather than later.
Growing Pains
"As any industry matures it will face growing pains and there will be individuals who believe they can use the fog of uncertainty to cover up their follies," Carper said.
Mt. Gox received a subpoena from federal prosecutors in New York this month asking it to preserve certain documents, the Wall Street Journal reported, citing an unidentified person familiar with the matter.
Jennifer Queliz, a spokeswoman for Manhattan U.S. Attorney Preet Bharara, neither confirmed nor denied the existence of a federal investigation when contacted by Bloomberg. Bharara's office previously has filed charges against Bitcoin operators of the Silk Road and BitInstant exchanges.
Mt. Gox Chief Executive Officer Mark Karpeles resigned this week from the board of the Bitcoin Foundation, the group that promotes and sets technical standards for the digital money.
The turmoil at the exchange highlighted how most Bitcoin-related companies are still operating in a regulatory gray zone.
Tailored Regulation
"Tailored regulation could play an important role in protecting consumers and the security of the money that they entrust to virtual currency firms," Benjamin Lawsky, superintendent of financial services in New York, said in a statement.
Japanese authorities are investigating the closing of the Mt. Gox exchange, Chief Cabinet Secretary Yoshihide Suga said today. The Financial Services Agency, Finance Ministry and police are gathering information on the matter and will take steps as needed after assessing the situation, he said at a news briefing in Tokyo.
Mark Williams, a former regulator and commodities trader who now teaches at Boston University, said that "much trust has been lost" with law enforcement, regulators and now consumers.
"To win back customer trust and gain broader adoption, Bitcoin community will need to accept regulation, work through well-established banking channels and embrace strong consumer protection rules," Williams said in an e-mail.
SecondMarket Exchange
At least one investor placed a vote of confidence in Bitcoin. Barry Silbert, chief executive of SecondMarket Inc., a New York brokerage, announced yesterday that his company would found a new Bitcoin exchange. SecondMarket, which already runs a Bitcoin investment vehicle for accredited investors, will spin off that business into the new one, and invest $20 million in cash and Bitcoin to seed the exchange.
Silbert said he is in discussions with "half dozen banks of global stature" about being members of the exchange, which would also include brokerages and money-services businesses. The troubles at Mt. Gox over the past few weeks haven't derailed the plans, which Silbert said hopes to finalize by the end of March.
"We would not be moving forward with building appropriately structured, regulated exchange if we thought this would damage Bitcoin long term," Silbert said in an interview.
Bitcoin was introduced in 2008 by a programmer or group of programmers under the name Satoshi Nakamoto. The digital currency, based on a peer-to-peer software protocol, has no central issuing authority, and uses a public ledger to verify transactions while preserving users' anonymity.
Money Transmitters
The Treasury Department's Financial Crimes Enforcement Network, which works to combat money laundering, said in March that digital currency businesses could be considered money transmitters, which are licensed by U.S. states. Stephen Hudak, a spokesman for FinCEN, said the agency was monitoring the situation at Mt. Gox.
Fred Ehrsam, co-founder of Coinbase, a San Francisco-based payments processor, said that until California establishes rules for digital currency businesses, companies have to work to win customer trust on their own.
"The only thing we can do is show we have a great track record and a credible management team," Ehrsam said.
The main financial backer of Coinbase is venture capital firm Andreessen Horowitz, in which Bloomberg LP, the parent of Bloomberg News, is an investor.
Ehrsam said that the Bitcoin industry is "not completely out of first generation Bitcoin infrastructure."
'Blood' Buying
Coinbase brought in Andreas Antonopoulos, chief security officer at Blockchain.info, a London-based company that maintains online "wallets" used to store digital currencies, to audit its security. Ehrsam called it a "peer review" that the company sought of its own accord, and Antonopoulos wrote on his own blog that Coinbase is "operating according to security best practices."
Fred Wilson, managing partner at New York's Union Square Ventures, which has backed Bitcoin companies, said he "bought a little Bitcoin today" after the price plunged, and recalled a Wall Street aphorism.
"I always feel good buying when there is blood in the streets in any market," Wilson wrote on his blog. "It is my favorite time to buy."
Jerry Brito, director of the technology program at George Mason University's Mercatus Center, said the public-relations challenge for Bitcoin firms could ebb if "the professionals" at other companies take the lead in restoring stability to the Bitcoin market.
"There's no question it's bad for Bitcoin's reputation," Brito said. "In the long run it's good, because it's the closing chapter of the amateur hobbyist Bitcoiners who laid out the initial infrastructure."