Hong Kong Eyes Fastest Growth in 3 Years as Fed Tapers: Economy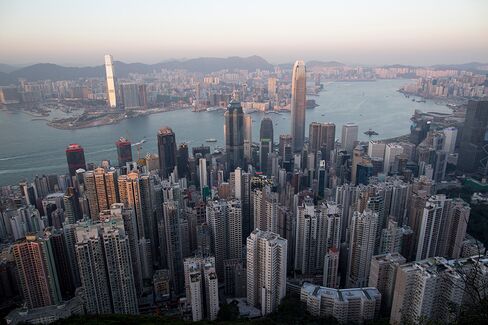 Hong Kong's economy is set to expand at the fastest pace in three years, even as the winding back of U.S. monetary stimulus adds to the risk of volatility in capital flows, the government said.
Growth may be between 3 percent and 4 percent, Financial Secretary John Tsang said in his budget speech today, after a 2.9 percent expansion in 2013. Gross domestic product rose 1.1 percent in the fourth quarter from the previous three months, the fastest pace in a year and matching the median estimate in a Bloomberg News survey of economists.
While Hong Kong also faces the risks associated with a slowdown in China, Tsang has indicated that it's time to shift away from a crisis mentality and to focus more on longer-term policies. In the budget for the coming year, one-off assistance for citizens such as tax cuts and welfare payments totaled about HK$20 billion ($2.6 billion) down from HK$33 billion in the previous document.
"The growth forecast of 3 percent to 4 percent is achievable due to a robust domestic demand and a pick-up in investment," said Ryan Lam, Hong Kong-based economist at Hang Seng Bank Ltd.
Hong Kong's economy grew 1.5 percent in 2012, down from the 4.8 percent pace in 2011 and a 6.8 percent expansion in 2010, when the city was surging back from the global financial crisis, Bloomberg data show.
Today's package included one-off measures such as property-rates waivers, tax cuts and social-security payments.
Fed Tapering
The U.S. Fed Reserve said in December that it would start reducing the monthly pace of its asset purchases, citing progress toward its goal of full employment. It announced a $10 billion reduction that month, followed by a cut of the same size in January, to $65 billion. Fed Chair Janet Yellen this month pledged to scale back stimulus in "measured steps."
While Tsang today described the Chinese economy as "robust," investors are focused on credit-market stresses including the risk of defaults by high-yield trust products. Hong Kong's Hang Seng Index has fallen about 4 percent this year, amid concern that China's slowdown will deepen. The gauge was up 0.2 percent today as of the morning break in trading.
"The slowdown in China's growth will impact Hong Kong's economy," Lily Lo, a Hong Kong-based economist at DBS Group Holdings Ltd, said before today's data and budget speech.
Barring external shocks, Hong Kong can maintain full employment this year, Tsang said, adding that tourism and infrastructure projects will help to fuel domestic consumption.
Disneyland Project
Hong Kong Disneyland plans to open its third and largest hotel in the city by early 2017, the company said this month. Visitors arrivals to Hong Kong from China jumped about 17 percent to 40.8 million last year, according to the Hong Kong Tourism Board. China is the destination for more than half of the city's exports of goods and the source of 75 percent of tourist arrivals.
The financial secretary noted that this year's forecast economic growth is lower than the 4.5 percent average of the past decade. The housing market is also yet to "regain its balance" after low interest rates and abundant liquidity fueled asset-bubble risks, he said. Property sales slumped after the government introduced tougher curbs last year.
Hong Kong's annual economic growth may be 3.5 percent from 2015 through 2018, Tsang said.
A "structural China slowdown" will likely damp Hong Kong's recovery, Bank of America Corp. said in a note ahead of today's data and budget speech. The city's economy remains "highly sensitive" to Fed tapering and property-market volatility poses a threat to financial stability, the bank said.
The International Monetary Fund projects global growth of 3.7 percent this year, up from 3 percent in 2013. At the same time, China's economic expansion is set to slow this year to 7.5 percent, the least since 1990, according to a Bloomberg News survey of economists.
Before it's here, it's on the Bloomberg Terminal.
LEARN MORE