Hong Kong Editor in Press Freedom Row Critical After Attack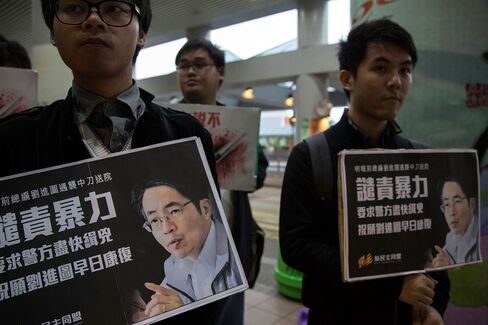 The former chief editor of a Hong Kong newspaper, whose removal from his post led to protests over press freedom in the city, was critically injured after being slashed with a knife by assailants on a motorbike today.
The attack on Kevin Lau, chief operating officer at a unit of Media Chinese International Ltd. and former chief editor at Ming Pao Daily News, happened days after at least 1,600 demonstrators held a march to express concerns that media freedom is being eroded.
Lau was stabbed in the back by attackers after he parked his car by one of two men who drove a motorbike in front of him, Ming Pao reported. Kwan King-pan, acting superintendent of the Hong Kong Police, said the victim was struck three times with a meat cleaver and is now in critical condition.
"The Government and I are extremely concerned and outraged about the attack on Mr Lau this morning and we strongly condemn this savage act," Chief Executive Leung Chun-ying said in a statement. "Hong Kong is a lawful society and we will not tolerate violence."
Lau's reassignment from the top editorial role at the newspaper sparked protest from staff who said he was being punished for running coverage critical of Hong Kong's government and China. The recent firing of an outspoken radio host also caused a public outcry, with protesters taking to the streets for the Feb. 23 march organized by the Hong Kong Journalists Association. The association said 6,000 people attended the rally, several times the figure given by police.
Previous Attacks
"There have been previous attacks on people in media and the investigations didn't go anywhere," Yuen Chan, a journalism lecturer at the Chinese University of Hong Kong, said by telephone. "I hope this time it won't be the case again."
Hong Kong Journalists Association "condemns in the strongest terms" the attack and urges the authorities to pursue the attackers without fear or favor, according to a statement on its website. "The attackers must be brought to justice as quickly as possible to allay public fears."
Ming Pao, operated by Media Chinese International, has published feature reports on the death of Chinese dissident Li Wangyang, and articles that exposed illegal building works by Hong Kong officials.
Hong Kong's ranking on the global Press Freedom Index compiled by Reporters Without Borders fell to 58 last year from 18 in 2002.
Before it's here, it's on the Bloomberg Terminal.
LEARN MORE