Gordhan Cuts South Africa Deficit Target as Rand Buoys Taxes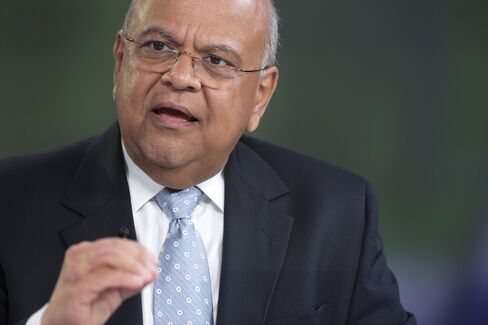 South African Finance Minister Pravin Gordhan cut his budget-deficit targets for the next three years as a weaker rand boosts tax revenue from exporters and the government pledges to stick to spending limits.
Tax collection in the year through March is set to exceed an October target by 4 billion rand ($373 million), helping to reduce the fiscal gap to 4 percent of gross domestic product from an earlier projection of 4.2 percent, Gordhan said in his budget speech in Cape Town today. The deficit will remain at 4 percent of GDP next year, before narrowing to 3.6 percent and 2.8 percent in the following two years.
Gordhan, 64, used his last budget before May 7 elections to highlight the achievement of President Jacob Zuma's administration in steering the economy through a recession five years ago toward growth and fiscal stability. While tax revenue has recovered, rising interest rates and a weaker rand will boost government debt over the next three years, risking further credit rating downgrades if economic growth weakens.
"We still have an immense set of tasks and challenges facing us," Gordhan said. "We cannot just muddle through the next decade."
Gordhan lowered his estimate for economic growth this year to 2.7 percent from 3 percent and kept projections for the next two years unchanged at 3.2 percent and 3.5 percent. The economy expanded 1.9 percent last year as strikes in mining and manufacturing and a slump in global demand curbed exports.
'Lackluster Growth'
"At the heart of the story is really the lackluster growth," Ravi Bhatia, director of sovereign ratings at Standard & Poor's, said by phone from London. "We are also concerned about the current-account deficit and its financing. We currently have South Africa on a negative outlook and it remains on a negative outlook. I don't think we've seen any major surprises."
The rand has slumped 3 percent against the dollar this year amid a sell-off of emerging-market assets, adding to pressure on inflation and prompting the Reserve Bank to raise interest rates for the first time in more than five years.
Those risks "reinforce the need to moderate public expenditure, lower the budget deficit and ensure that public-sector debt stabilizes relative to GDP," Gordhan said. "Rising global interest rates make it increasingly costly for government to borrow."
Past Achievements
The rand weakened to 10.8147 against the dollar at 6:10 p.m. in Johannesburg from 10.7224 before Gordhan started speaking.
"I am underwhelmed by the budget speech," Jac Laubscher, group economist of Cape Town-based Sanlam Ltd., the biggest South African-based life insurer, said in e-mailed comments. "As is to be expected in an election year, it dwells excessively on past achievements. Except for a few marginal items, it offers nothing new. It is perhaps in a sense a caretaker budget, with a new administration set to take over in just more than two months' time."
Inflation is set to average 6.2 percent this year, exceeding the central bank's 3 percent to 6 percent target band, and reach 5.9 percent next year, according to the Treasury. Gross government debt will probably increase to 48.3 percent of GDP in three year's time from 45.8 percent.
Credit Ratings
"Gordhan is trying to balance two things, showing an adherence to fiscal discipline and maintain growth," Kevin Lings, an economist at Stanlib Asset Management, said by phone from Johannesburg. "That type of balance has been achieved. I think the credit rating agencies will be satisfied with the path of credit reduction."
South Africa was downgraded by the three main credit-rating companies between September 2012 and January 2013 as economic growth slowed and debt increased. Moody's Investors Service joined S&P in placing a negative outlook on South Africa's rating, indicating the threat of a further cut.
Government revenue benefited from higher corporate and individual tax receipts in the current fiscal year as a weaker rand boosted profits of exporters and workers secured above-inflation pay increases, the Treasury said. Those factors may not persist, it said.
Election Pledge
An improvement in the budget performance allowed Gordhan to provide tax relief of 9.3 billion rand in the year through March 2015, mainly by adjusting tax brackets for inflation.
South Africa will in May hold its fifth election since apartheid ended in 1994, with the ruling African National Congress set to win a majority of the vote, according to opinion polls. The ANC has pledged to create 6 million "job opportunities" in the next five years to help reduce a 24 percent unemployment rate.
"There will be continuity in policy," Gordhan told reporters in Cape Town. "This budget is not for four months. This budget is for the next three years. There'll be adjustments to it as we go on, but this budget is for the next administration to pick up, start running and then amend it."