Delta Favors Fliers Paying Most as Loyalty Plan Is Recast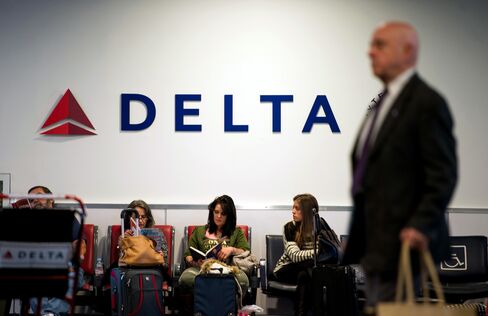 Delta Air Lines Inc.'s shift to basing frequent-flier awards on the cost of the ticket instead of miles flown adds to benefits enjoyed by travelers who pay the highest fares and penalizes those who seek the cheapest price.
The world's third-largest carrier will break with tradition among the biggest U.S. airlines when it makes the change on Jan. 1, 2015, adopting a system similar to those at low-fare operators Southwest Airlines Co. and JetBlue Airways Corp.
Each dollar spent on a Delta trip will earn rewards of five to 11 miles, rather than the usual practice of SkyMiles members getting credit for each mile flown, Delta said today. Loyalty-plan participants with elite status will receive the most, Atlanta-based Delta said.
"The losers are probably those passengers who aren't of much value to the airline anyway," Randy Petersen, editor of InsideFlyer magazine, said in an interview today. "This move returns frequent-flier programs to the frequent flier. For the last 10 to 15 years, it's really been equal for everybody."
American Airlines Group Inc. isn't likely to follow Delta in the next few years because it's focused now on combining the awards plans from American Airlines and US Airways after their December merger, Petersen said. United Continental Holdings Inc. is more likely to adopt similar policies, he said.
Those two carriers, the world's biggest, still use the miles-flown method to calculate travelers' rewards. Spokesmen for Fort Worth, Texas-based American and United declined to comment on Delta's planned switch.
Repeat Business
Airlines rely on loyalty programs to build repeat business, especially among the corporate fliers who travel most often and typically pay the highest prices. While the customers earning more miles under Delta's new plan are a minority among SkyMiles members, they produce 60 percent of the airline's revenue, said Vice President Jeff Robertson, who runs the program.
"The stereotype has been that the road warrior and the leisure traveler are sitting together on a plane," InsideFlyer's Petersen said. "One paid $500 and the other paid $150 for their tickets, but both were earning the same amount of frequent-flier miles. Fast forward and the fares don't change, but the business traveler and leisure traveler won't earn the same frequent-flier miles going forward."
Delta's Research
The SkyMiles revision followed a study of programs used by Southwest, JetBlue and Virgin America Inc. as well as the credit-card and hotel loyalty plans with spending-based awards, Robertson said. The airline also sought input from "thousands" of passengers, employees, corporate-travel managers and others, he said.
"Our goal was to invest more in those customers where the frequent-flier program was the primary purchase driver" versus those who bought based on price, Robertson said in an interview.
Delta rose 0.8 percent to $33.51 at the close in New York. That pushed the stock's year-to-date gain to 22 percent, while the Standard & Poor's 500 Index has fallen 0.2 percent.
SkyMiles had about 90 million members as of June, according to estimates by travel website FrequentFlyerServices.com, while American had about 101 million and Chicago-based United about 90 million.
The lowest redemption level for a round-trip flight will remain at 25,000 miles (40,200 kilometers), for a coach fare for U.S.-Canada travel excluding Hawaii, Delta said.
Delta said the new plan will improve "overall availability" of awards at the lowest prices. The airline's program in the past had been rated at the bottom of the industry because of difficulty in redeeming awards and the amount of miles required for a ticket, Petersen said.
"The SkyMiles program has been the underperforming part of the Delta brand over the last five years," he said. "But every single thing Delta has announced so far is not new. What makes it an evolution for the industry instead of a revolution is that it's a safe bet for Delta."
Before it's here, it's on the Bloomberg Terminal.
LEARN MORE