Billions for Small Business at Stake in Contracting Targets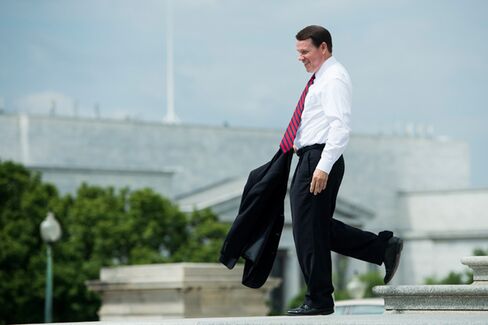 Representative Sam Graves, the Missouri Republican who heads the House Small Business Committee, proposed a bill yesterday that would increase the share of government contracts that Congress asks federal agencies to award to small business to 25 percent.
Raising the target, currently at 23 percent, will "make it easier for small businesses to enter this marketplace and compete for contracts," Graves said in a statement. The lawmaker is also proposing legislation that would "improve data on how often federal agencies consolidate a number of contracts into one large contract, which can make it tougher for small companies to win an award," according to Bloomberg News.
A 2 percentage point increase potentially means real money for small contractors: The difference amounted to more than $7 billion in federal awards last year. The government frequently misses its contracting targets, but Graves's proposal comes as Washington is closing in on the 23 percent goal for the first time since 2005.
Washington awarded $83.2 billion in contracts to small businesses in the year ending September 2013, according to the Small Business Dashboard at data.gov. That was good for 23.4 percent of the total contracting pool. If small businesses had been awarded 25 percent of federal contracts, they would have taken home $88.9 billion in government business.
You can read this as Graves, a frequent critic of the president, trying to move the goal posts just as the White House is closing in on the existing target. A more sympathetic reading: Raising the bar will call more attention to agencies that miss contracting goals and perhaps prod them into awarding more work to small businesses.
Graves and others say the government uses accounting tricks—mostly by excluding certain contracts—to inflate its calculation of the small business share. In an e-mail, Small Business Administration spokeswoman Tiffani Clements wrote that number-crunching methods have "generally remained consistent over the years and across administrations" and said there are legal reasons for some exclusions.
Before it's here, it's on the Bloomberg Terminal.
LEARN MORE