Silent Putin Learns From Kiev Misstep to Regain Sway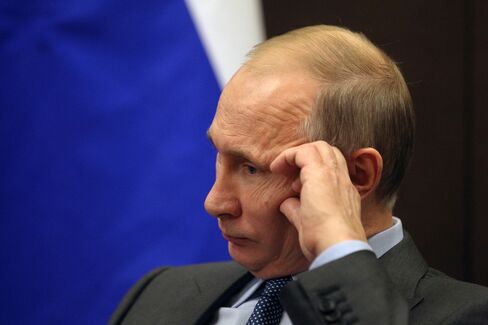 Vladimir Putin's efforts to regain influence in Ukraine after the leader he campaigned for was overthrown will be quiet and less extreme than anything like military action, analysts from Moscow to London said.
Putin, who's yet to comment publicly on the bloody ouster of Viktor Yanukovych last week, won't risk inciting a backlash against Russia as he did in 2004 by interfering directly as Ukraine scrambles to form a government and elect a president, said Olga Kryshtanovskaya, a sociologist who studies Putin and Russia's elite at the Russian Academy of Sciences in Moscow.
"I'm confident he won't resort to direct interference," Kryshtanovskaya said by phone. "He may use some less explicit methods of economic or other kinds of pressure, though."
Putin interrupted a state visit to Brazil in 2004 to congratulate Yanukovych on winning the presidency -- before all the votes were counted. Fraud in that election sparked the Orange Revolution that kept Yanukovych from coming to power. Putin's spokesman, Dmitry Peskov, said by phone late yesterday that questions about the Russian president's public silence on Yanukovych's ouster are "inappropriate."
Months of conflict between Ukraine's Russian-backed leadership and opponents who favor integration with the European Union culminated last week in the country's deadliest clashes since World War II. The deepening divisions between the EU-leaning western part of Ukraine and the mainly Russian-speaking east and south prompted leaders including Polish Prime Minister Donald Tusk to warn the violence could descend into Europe's first civil war since the breakup of Yugoslavia.
Crimea Protests
In Crimea, part of Russia until 1954 and still home to its Black Sea Fleet, tensions flared anew today as thousands of demonstrators pushing for a referendum on joining Russia faced off against members of the Tatar ethnic minority outside the local parliament in Simferopol. Lawmakers will hold an emergency session to discuss whether to support the plebiscite.
Moldova, on Ukraine's southwest border, has a pro-Russian secessionist region, Transnistria, and fellow former Soviet republic Georgia fought a five-day war with Russia in 2008 in a failed bid to bring two Russian-backed regions under control.
"I don't think they'd try to do what they did in Georgia because they'd be too anxious, as everybody must be, that they'd cause the disintegration of the country, that they'll cause civil war," said Margot Light, professor emeritus at the London School of Economics.
Revolution Road
The nation of 45 million people depends on Russia for 60 percent of its natural gas and is the main transit route for Russian gas shipments to western Europe, where state-run OAO Gazprom, based in Moscow, has a quarter of the market. Russia halted gas flows to Ukraine in 2006 and 2009 amid disputes over prices and volumes, leading to shortages throughout Europe.
The road to revolution in Ukraine, which has endured three recessions since 2008, started in Kiev in November, when Yanukovych pulled out of a free-trade deal with the EU, opting instead for $15 billion of Russian aid and cheaper gas. Yanukovych also pursued closer ties with Putin's customs union with Kazakhstan and Belarus.
Now Putin has put Russia's aid package on hold as the U.S. and EU debate how much of the $35 billion the temporary government in Kiev says it needs they'll provide. Standard & Poor's warned last week that Ukraine risks default without "significantly favorable changes" in its political crisis and cut its rating to CCC, eight levels below investment grade.
'Economic Pain'
Libor Roucek, a member of a European Parliament delegation to Ukraine, called forming a cabinet the "biggest task." The country's leaders estimate the government needs $4 billion by the end of the month to cover payments for wages, pensions and Russian gas, he said.
"Russia's main task now is to maintain as many pressure levers as possible over Ukraine's future government," Jonathan Eyal, international director at the Royal United Services Institute in London, said in a research note. One of those levers may be demanding repayment of $2.3 billion of debt for oil and gas deliveries, Eyal said.
"The Russians can also express their displeasure by canceling visas of Ukrainian migrant laborers working in Russia, or by imposing strict controls on cross-border trade," Eyal said. "Both were tried before, and both cause real economic pain."
Anti-Putin Rhetoric
Putin's also waiting to see what happens during the campaign for the May 25 presidential election, which may still be won by a candidate representing the Russian-leaning east, said Arkady Moshes, head of the EU's Eastern Neighborhood and Russia research program at the Finnish Institute of International Affairs.
"The outcome of the early elections is not predetermined," Moshes said by phone from Helsinki. "The east of the country, which is numerically stronger than the west, is now quite frightened with what has happened. If a representative of the east wins a fair and free election, destabilization is still quite possible. A lot of effort by the Ukrainian liberals and by the international community will be required to keep the country stable."
Even if a leader of the opposition that's now in power wins, such as former Prime Minister Yulia Tymoshenko, he or she will have to attract voters in the industrial heartland in the east, meaning the anti-Putin rhetoric will have to be toned down, according to Volodomyr Fesenko, head of the Penta Political Analysis Center.
"For Putin, Tymoshenko is not an ideal partner, not a marionette, but he knows he can make deals with her," Fesenko said by phone from Kiev.
'Economic Pressure'
Tymoshenko, 53, rejected a report that she plans to run for president, Interfax cited her lawyer as saying. Even if she doesn't run, she'll retain political power through her party, Batkivshchyna, whose members include acting President Oleksandr Turchynov and parliamentary leader Arseniy Yatsenyuk.
After helping lead the bloodless Orange Revolution in 2004, Tymoshenko went on to serve as prime minister in 2005 and from 2007 to 2010 under then-President Viktor Yushchenko. After she lost the presidential election to Yanukovych in 2010, she was sentenced to seven years in prison. The crime: causing damages to the state by signing with Putin the 10-year gas supply and transit accord that ended Gazprom's shutoff in January 2009, during a cold snap.
'Political Sex'
"Putin will apply economic pressure first and foremost, but he'll also make attempts to stimulate separatists movements and support pro-Russian actors in the east and south, particularly during the presidential election," said Oleksiy Haran, a professor of politics and a member of the opposition's Maidan Council, named after Kiev's iconic Independence Square.
Two of the potential ironies of the upheaval in Ukraine are that Tymoshenko may become president and that Putin would welcome that, according to Gleb Pavlovsky, a former Kremlin political adviser who was sent to Ukraine by Putin to help manage Yanukovych's campaign in 2004.
Putin never liked Yanukovych and, like a former KGB colonel should, "viewed him as a petty thief," Pavlovsky said by phone from Moscow. Putin only supported Yanukovych because former President Leonid Kuchma said he was the one person who could guarantee his safety after retirement, Pavlovsky said.
Putin and EU leaders including Angela Merkel condemned the case against Tymoshenko, who was released last week. Pavlovsky said Putin always respected Tymoshenko when she was in government, even if he didn't always agree with her.
"There was a kind of political sex between them," Pavlovsky said.