Obama Asks Pentagon to Prepare for Full Afghan Withdrawal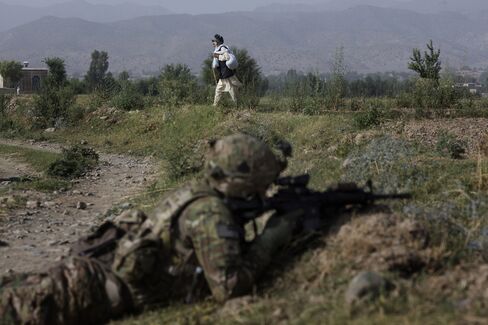 President Barack Obama warned Afghan President Hamid Karzai that the U.S. is making plans for a full withdrawal of U.S. troops from Afghanistan by year's end in the absence of a bilateral security agreement.
Obama delivered the news to Karzai today in a call, telling him that "because he has demonstrated that it is unlikely that he will sign the BSA, the United States is moving forward with additional contingency planning," according to a statement released by the White House.
Obama left open the possibility of reaching a security agreement later this year, while saying the longer it takes, the smaller the residual U.S. force that will be left in the country to conduct training and counterterrorism operations.
The White House statement marks a ramping up of pressure on the Afghan government as Karzai has continued to frustrate U.S. goals after 13 years of war. In addition to refusing to sign a security agreement and criticizing the U.S. role in his country, Karzai ignored Obama administration protests this month and freed 65 prisoners accused of killing civilians and soldiers who the U.S. said pose a threat.
"We've been pressing very hard" to get the security agreement signed, White House press secretary Jay Carney said. It was reached after long negotiations and endorsed at a meeting of 2,500 tribal elders that Karzai convened, he said.
'Prudent Step'
U.S. Defense Secretary Chuck Hagel offered his "strong support" for Obama's decision, which he called a "prudent step" given Karzai's unwillingness to sign an agreement before the April election for his successor.
Hagel said in a statement that the Defense Department will "ensure adequate plans are in place to accomplish an orderly withdrawal by the end of the year should the United States not keep any troops in Afghanistan after 2014."
The call to Karzai came before a North Atlantic Treaty Organization defense ministers meeting this week in Brussels, where the future of forces in Afghanistan will be a topic. NATO's top commander, U.S. Air Force General Philip Breedlove, said earlier this month that because of political and budgetary timelines, several allied nations that have committed troops to Afghanistan can't wait long to decide what role, if any, they will play after this year.
Today's announcement will give more direction for the discussions in Brussels, as military planners now know that one of the options they must prepare for is a complete withdrawal, according to a U.S. defense official, who asked for anonymity to discuss deliberations with U.S. allies.
Afghan Stability
The White House has said previously that without a security accord, no U.S. troops can remain in Afghanistan beyond this year. The inability to reach a similar pact in Iraq triggered a complete pullout of U.S. forces in 2011. A Congressional Research Service report in January said that if a post-2014 support mission isn't put into place "prospects for Afghan stability are poor."
Obama told Karzai the U.S. "will leave open the possibility of concluding a BSA with Afghanistan later this year" under a new government, according to the statement. The longer it takes to reach an agreement "the more likely it will be that any post-2014 U.S. mission will be smaller in scale and ambition."
As of Feb. 1, the U.S. had 34,000 troops in Afghanistan, the fewest since the 34,400 when Obama took office in 2009. The U.S. hasn't announced a schedule for further withdrawals.
U.S. public support for the Afghan war has been declining and a Gallup poll released Feb. 19 found that for the first time since the conflict began in 2001, about half of Americans say U.S. military involvement there was a mistake.