Musk Wealth Soars $1.1 Billion in One Day as Tesla Surges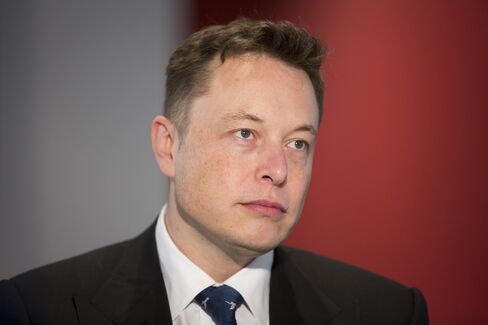 Elon Musk added $1.1 billion to his fortune yesterday as electric-car maker Tesla Motors Inc. and solar power company SolarCity Corp. closed at records on investor optimism over his plans to build one of the biggest battery factories on Earth.
Musk, who leads Tesla and is both its and SolarCity's biggest shareholder, has a net worth of $11.7 billion, according to the Bloomberg Billionaires Index, up 10 percent since yesterday and $3.8 billion year-to-date.
The South African-born Musk, 42, is the world's 94th richest person and trails only Facebook Inc.'s Mark Zuckerberg in wealth gains this year among U.S. billionaires.
The market capitalization for Tesla, which delivered about 22,400 electric Model S sedans in 2013, swelled to $30.4 billion -- more than half that of General Motors Co. or Ford Motor Co. Musk last week outlined plans for a "gigafactory" capable of supplying Tesla with lithium-ion batteries at lower cost and greater quantity than any current facility.
Tesla is also targeting a 56 percent boost in production of its flagship Model S sedan this year, which begins selling in China next month. Separately, Consumer Reports magazine yesterday named Model S, priced from $71,000, as the year's best car.
The company advanced 14 percent to $248 at the close yesterday in New York and has risen 65 percent this year. SolarCity rose 3.4 percent to a record $81.18 and is up 43 percent this year.
The battery plant would be built with partners, and "there's a likelihood Panasonic would be part of it," Musk told Bloomberg News last week. Panasonic Corp. is both a Tesla investor and its main supplier of lithium-ion cells. Panasonic's participation is "not 100 percent confirmed," he said.
Before it's here, it's on the Bloomberg Terminal.
LEARN MORE