Michigan Seen Taking 'Ostrich' Approach to Same-Sex Union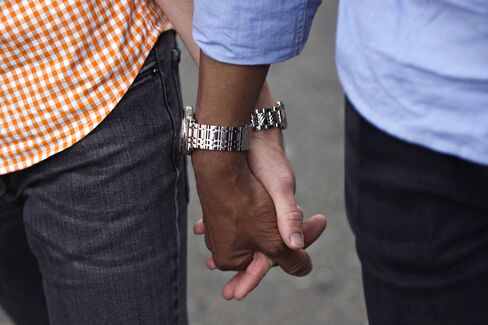 Michigan's defense of its same-sex marriage ban reflects an "ostrich" approach to research showing children of such unions benefit the same as those of heterosexual marriages, lawyers for two women said in a trial seeking to overturn the law.
The Michigan case should be "the last trial in America where same-sex couples have to defend themselves," said Carole Stanyar, a lawyer for plaintiffs April DeBoer and Jayne Rowse, in her opening argument today in Detroit federal court.
The "state takes an ostrich approach" to existing research on the health and well-being of children in same-sex marriage, the attorney told U.S. District Judge Bernard Friedman, who is presiding over the case without a jury. The state's research relies on "a flawed methodology" and conflicts with existing research in the field.
The trial comes almost two weeks after a federal judge in Virginia ruled that state's ban invalid, echoing U.S. judges in Utah and Oklahoma who recently held similar laws to be barred by the U.S. Constitution's guarantee of equal protection. Seventeen states and the District of Columbia recognize a right to same-sex marriage. The court rulings in Utah, Oklahoma and Virginia are on hold while opponents pursue appeals.
In an appeal filed today with the U.S. Court of Appeals in Denver, an Oklahoma court clerk made arguments similar to those posited by Michigan officials.
'Child-Centered'
The state has a right to define marriage in a way that serves "child-centered purposes" and avoids "the negative outcomes often associated with children raised outside a stable family led by both their mother and father," said Sally Howe Smith of Tulsa in court papers. "Marriage is thus inextricably linked to the undeniable biological fact that man-woman couples, and only such couples, are capable of naturally creating new life together."
Republican Governor Rick Snyder has defended Michigan's law, approved by voters as a constitutional amendment, as promoting "natural procreation," "optimal parenting" and "family stability."
Michigan's position "is not an attack on the gay-lesbian lifestyle," Kristin Heyse, a state lawyer, said at an October hearing.
'Exclusive Province'
In her opening argument today, Heyse said the case "is about the will of the people," since 2.7 million Michigan voters supported the ban. Defining marriage is the "exclusive province of the state."
The vote "celebrates that a mom and dad are important," since same-sex marriage has only been around since 2004, there hasn't been "enough time" to decide what is best for children, the state lawyer argued.
The first witness called was David Brodzinski, a former Rutgers University psychologist specializing in forensic psychology, adoption and foster care. He testified there is "no evidence" that a child needs both a male and female parent.
"Gender is not the key, but the quality of the parenting," he said. This is only true as long as the parents have key characteristics, such as harmony between them and creation of a warm, loving environment, he said. "Moms and dads are important as parents, not as men and women."
Judge Friedman, 70, is a 1988 appointee of Republican President Ronald Reagan. He has previously concluded that Michigan's claim it had a legitimate interest in outlawing same-sex marriage must be weighed against whether DeBoer and Rowse have a constitutional right to marry.
Michigan Couple
The Michigan couple initially sued to overturn a state law barring unmarried couples from adopting each other's children. DeBoer's daughter was born and adopted in 2010. Rowse adopted two sons in 2009, the same year they were born.
They later added the challenge to the gay-marriage ban, telling the court they've been a couple for 12 years, have lived together for six and are joint homeowners.
"The right is not to same-sex marriage," Stanyar, their lawyer, told Friedman in October. "It is the right to marriage." Friedman has previously called the women's claims plausible.
Michigan voters have repeatedly rejected attempts to change the state's law on adoption, which has existed in some form since 1945, according to a court filing by Republican Attorney General Bill Schuette who, along with Snyder, is a defendant in the lawsuit.
Two Bills
Since the ban was added to Michigan's constitution in 2004, two bills to recognize gay marriage have failed in the state legislature, Michigan said in a court filing.
In her argument today, Stanyar said the trial is about marriage equality and the well-being of children.
We have a "rare opportunity" to change two laws "that hurt people so deeply," she told the judge. "Marriage is central to life in America," providing economic strength, security and stability.
The plaintiffs "took in babies left behind," the lawyer said. "These two women are heroes. This family should be embraced, celebrated and supported."
The case is DeBoer v. Snyder, 12-cv-10285, U.S. District Court, Eastern District of Michigan (Detroit).