Fresenius Medical Care Forecasts Decline in 2014 Profit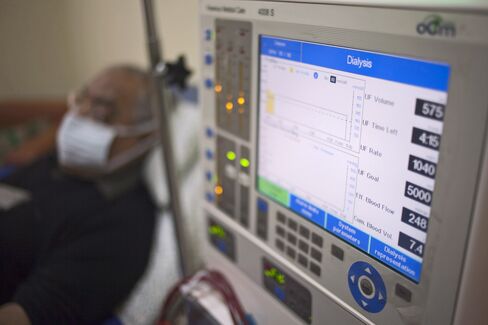 Fresenius Medical Care AG, the world's biggest dialysis provider, forecast a second consecutive profit decline in 2014 as the U.S. government cuts health spending. The stock fell the most in almost eight months.
Chief Executive Officer Rice Powell said he wanted to set a forecast that would leave "breathing room" for an organization that had struggled to reach last year's targets.
Fresenius Medical said it expects net income of $1 billion to $1.05 billion this year. Analysts had forecast $1.19 billion, according to the average of 20 estimates.
The discrepancy may show a shift toward caution in the way Fresenius Medical, based in Bad Homburg, Germany, communicates with the market, Jefferies LLC analysts wrote in a note to investors today. Though the company's forecast doesn't include potential savings of about $60 million from a cost-cutting program, even adding those savings still results in a forecast that misses expectations, the Jefferies analysts wrote.
The shares fell 5.7 percent, the most since July 2, to 49.82 euros in Frankfurt. Fresenius SE, which owns about 31 percent of the dialysis company, declined 4.2 percent, the most since August 2011, to 114.05 euros.
Against Wall
"Every day last year I felt like my back was up against the wall because we had guidance that was very difficult," Powell said in a phone interview. "This year we tried to create what I would call adequate guidance."
There's room for a boost to the outlook once it's clear how much money the cost-cutting program will save, Powell said. Fresenius Medical is reviewing lower-performing U.S. dialysis clinics, and Powell said he expects to close some of them.
Fresenius SE forecast 2014 adjusted net income will rise 2 percent to 5 percent, excluding currency shifts, slowing from last year's 14 percent growth rate.
The parent company's slower growth rate is partly due to the dialysis unit's weak forecast, plus a more cautious stance on Kabi, its intravenous drugs unit, Alexander Kleban, a London-based analyst for Barclays Plc, said in a note to investors.
"We question whether management is taking too-cautious a tack in order to avoid a potentially negative surprise down the road," Kleban wrote.
Still Difficult
A "very difficult" reimbursement situation for Kabi's products will continue this year, Fresenius SE CEO Ulf Mark Schneider said at a press conference in Bad Homburg.
Schneider declined to comment on a Reuters report last week that Fresenius may bid for Danone's medical nutrition unit in a deal that may be worth about 4 billion euros. He said Fresenius can't plan when it may make larger deals, adding that "while acquisitions are not part of our forecasts, we don't exclude doing them if opportunities arise."
Kabi's U.S. drug revenue has been boosted as rivals have had quality-control problems. The unit expects growth of 3 percent to 7 percent this year, depending on the size of the effect in 2014, he also said.
Most of the 80 million-euro ($110 million) cost of integrating hospitals Fresenius bought from German rival Rhoen Klinikum AG will come this year, the CEO said.
Earnings growth will trail sales growth through 2017 because a bigger portion of Fresenius's business will be from lower-margin hospitals, Schneider said. The company said today it's targeting net income of 1.4 billion euros to 1.5 billion euros in 2017.
"Internally, we call our 2017 goals 'stretch-targets,'" the CEO said.
Before it's here, it's on the Bloomberg Terminal.
LEARN MORE