More Cold Weather to Chill Midwest as Snowstorm Misses Northeast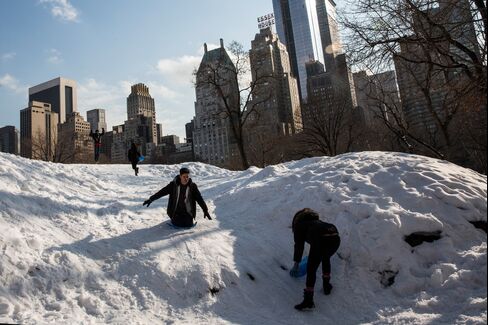 Temperatures across the Midwest are forecast to crash below zero Fahrenheit and reach the teens in New York this week as another round of arctic air sweeps south from Canada and a major snowstorm misses the Northeast.
Average temperatures at least 15 degrees below normal (8 Celsius) will spread across the Great Plains and Midwest from today through March 5, said Matt Rogers, president of the Commodity Weather Group LLC in Bethesda, Maryland. Readings may be 25 degrees below normal in Chicago, according to MDA Weather Services in Gaithersburg, Maryland.
A storm may graze the Northeast later this week without becoming much of a problem, said Tom Kines, a meteorologist at AccuWeather Inc. in State College, Pennsylvania.
"It is looking more and more like that storm is going to get its act together off the coast and that is a good thing," Kines said by telephone. "I think the big thing is that it will be well below normal for this week."
The U.S. and Canadian winter has been marked by wave after wave of frigid air falling across the continent. The cold has combined with other systems to bring ice storms to Atlanta and waves of snow to the Northeast, snarling air and rail service in the eastern part of the country.
Natural Gas
Natural gas futures rose to their highest level in more than five years before slipping earlier today. Gas for March delivery fell 28 cents, or 4.6 percent, to $5.855 per million British thermal units at 11:32 a.m. on the New York Mercantile Exchange.
The gas-weighted heating degree days value for the U.S. is expected to reach 220 this week, 40 more than normal and 38 more than last year. The figure, a measure of cold and heating demand, is calculated by subtracting the average temperature from a base of 65 degrees with more emphasis given to those parts of the U.S. that burn the most gas.
"This air mass that is coming down across the northern plains to northern New England is about as cold as it can get at this time of year," Kines said.
The lowest, and perhaps record-breaking, temperatures in the U.S. will probably come just north of Interstate 80, which runs from northern New Jersey to San Francisco, the U.S. Weather Prediction Center said.
"Details gyrate, but the song remains the same," Rogers wrote in a forecast today.
10 Below
The National Weather Service has issued wind-chill advisories from Montana to Minnesota and Iowa. The combination of cold air and wind may make temperatures feel like minus 35. Chicago's low may dip to zero tomorrow and Minneapolis to 10 below.
Rogers predicts that temperatures will remain at least 5 degrees below normal across most of the eastern U.S. from March 6 to March 10 and 8 degrees lower in the Midwest, Great Lakes and Ontario.
"The big-picture theme of an impressive cold-dominated pattern that is colder than last year's March state is consistent," Rogers said.
Last year, the 48 contiguous U.S. states had an average temperature of 40.8 degrees, or 0.9 below the 20th-century average, according to the National Climatic Data Center in Asheville, North Carolina. It was the coolest March since 2002.
California may get some rain from a system about to come in off the Pacific, Kines said. Most of California is gripped by the two worst levels of drought, according to the U.S. Drought Monitor in Lincoln, Nebraska.
Before it's here, it's on the Bloomberg Terminal.
LEARN MORE