'Tron' in the Real World: A Lotus With a 'Light Cycle' Pedigree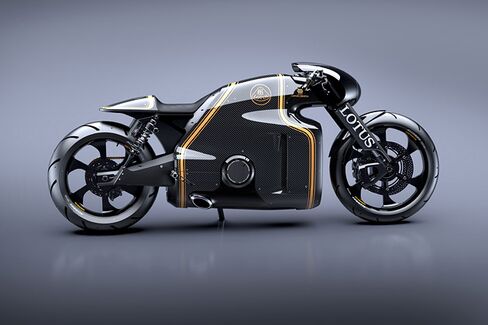 The designer behind the fictional light cycles in Tron: Legacy and the bubbleship flown by Tom Cruise in Oblivion is making a real-world motorcycle, the first produced under the Lotus marque.
The Lotus Motorcycles C-01, described by the creators as a "hyperbike," is the creation of former Bugatti Automobiles designer Daniel Simon and Germany's Kodewa racing team, who have licensed the U.K. sports-car manufacturer's name. Holzer Group will carry out the development, production, and assembly of the machine.
The motorcycle will be produced in a limited run of 100 units and is the two-wheeled equivalent of such ultra-exotic cars as the Italian Pagani Huayra. With a retail value of €100,000 ($137,450), the C-01′s price could afford you a pair of Lotus's Elise sports cars or four of Ducati's top-of-the-line 1199 Panigale R superbikes, which retail for a modest $31,000.
What sets this motorcycle apart from your average superbike is the extensive use of highly specialized materials such as carbon, titanium, and aerospace-quality steel, the same stuff used in Formula 1. Kodewa's background includes building a prototype Le Mans car for Lotus, and it's this level of craftsmanship that puts the C-01 in such an elite category of motorcycles.
First deliveries of this dream machine are set for August.
Before it's here, it's on the Bloomberg Terminal.
LEARN MORE