HSBC Adopts Cash, Shares Plan to Sidestep EU Bonus Limits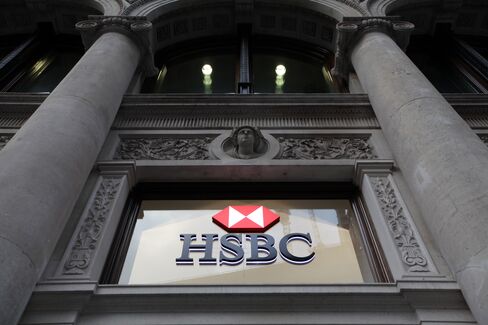 HSBC Holdings Plc became the first U.K. lender to reveal its plans to sidestep European Union caps on bonus payments for more than 600 senior managers as it awarded Chief Executive Officer Stuart Gulliver 8 million pounds ($13.3 million) in compensation.
A total of 665 HSBC employees will receive a fixed-pay allowance that is neither salary nor bonus to circumvent the rules, Gulliver, 54, said on a conference call with reporters today. Of those, 111 will get the allowance in shares and 554 in cash, he said.
Under EU rules, banks are banned from paying bonuses more than twice a senior employee's salary. Barclays Plc, the U.K.'s second-largest lender by assets, is considering a cash-based payment for some bankers, a person with knowledge of the process said on Oct. 23.
"It's much more complicated," Gulliver said today. "I think we had a compensation plan that shareholders liked. Sadly because of the EU directive we've had to change."
Bankers will receive all-share payments quarterly and must keep 80 percent for five years, while 20 percent will be available a year later. The bonus pool for the London-based lender's global banking and markets investment-banking business rose to $1.33 billion from $1.27 billion.
EU Rules
Britain was home to 2,188 investment bankers earning more than 1 million euros ($1.4 million) in 2012, the most in the EU, while Spain had 37, according to the London-based European Banking Authority. France and Germany had 117 and 100 respectively.
European regulators are tightening compensation regulations to prevent a repeat of the risk-taking that helped spark the 2008 global financial crisis. Banks are looking for ways to sidestep the stricter EU rules, which will apply to awards given in 2015, based on this year's performance.
U.S. investment banks with businesses in Europe have already moved to increase pay for some bankers in light of the bonus caps. Goldman Sachs Group Inc. is planning to raise fixed pay for some senior employees and traders in Europe, a person with knowledge of the plan said last month. The bank plans to make role-based payments to some senior bankers and traders in addition to their annual salaries and bonuses, the person said.
Gulliver spent 79,000 pounds on shared company cars in the U.K. and Hong Kong and 229,000 pounds on bank-owned accommodation reported at the market rate in 2013, the lender said in its annual report.
HSBC fell 2.8 percent to 635.7 pence in London trading, valuing the lender at 119.7 billion pounds.
Before it's here, it's on the Bloomberg Terminal.
LEARN MORE