Flee or Resign, Turkey Opposition Tells Erdogan Over Tape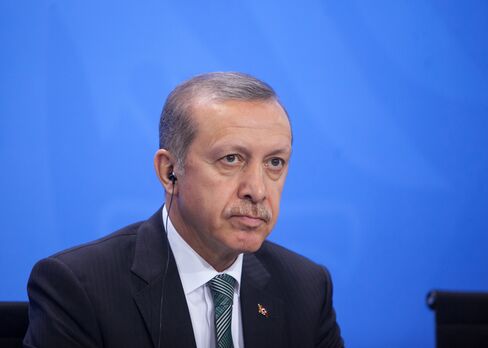 Turkey's opposition urged Prime Minister Recep Tayyip Erdogan to quit and protests broke out in several cities after the release of an audio tape purportedly of Erdogan discussing how to dispose of hidden funds.
Erdogan said the tape published on YouTube was a fabrication intended to undermine his party before next month's local elections. Kemal Kilicdaroglu, head of the Republican People's Party, said Erdogan should step down, and police broke up anti-government demonstrations in Istanbul, Ankara and other cities yesterday.
The recording marks an escalation of the graft scandal that broke in December, roiling financial markets and driving three ministers out of the cabinet. Erdogan and his allies blame U.S.- based cleric Fethullah Gulen. They say Gulen's followers inside Turkey's police and judiciary pursued the probe to weaken the government, as well as carrying out illegal surveillance, including wiretaps and bugging, and producing faked tapes.
Turkey's benchmark stock index yesterday posted its biggest drop this year, falling 3.2 percent. The lira extended declines, weakening 0.6 percent against the dollar. It has fallen more than 8 percent since the corruption investigation became public, the most among emerging market currencies in Europe, the Middle East and Africa.
Police repeatedly used tear gas and water cannons to disperse hundreds of protesters in Ankara yesterday. The demonstrators were spurred by the recordings published online, said Mehmet, an engineering student who declined to give his surname for fear of reprisals. "We're against a corrupt prime minister," he said.
`Worst Crisis'
There were also clashes in several Istanbul districts, the Aegean coastal city of Izmir, and other regions including Trabzon and Eskisehir, Hurriyet newspaper said.
Erdogan told lawmakers in parliament that his Justice and Development Party will "settle scores at the ballot box," in local elections due on March 30. He told reporters that he would supply evidence about how the recordings were produced, the official Anatolia news agency said.
"Erdogan is going through the worst crisis in his career," Nihat Ali Ozcan, an analyst at the Economic Policy Research Foundation in Ankara, said by phone. "The spell around his charisma is broken and it is difficult to repair the damage. There will be consequences of this sooner or later."