Deutsche Telekom Seeks WhatsApp Alliance Post-Facebook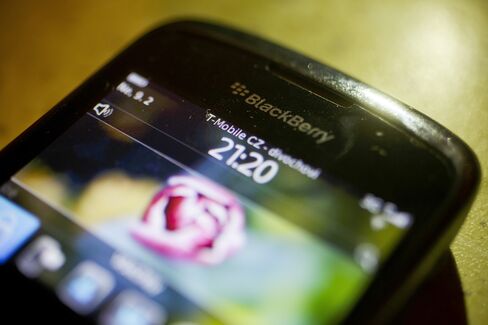 Deutsche Telekom AG is considering an alliance with WhatsApp Inc., the latest European phone company to seek closer links with the mobile messaging startup that agreed to be acquired by Facebook Inc. for $19 billion.
Germany's biggest carrier is prepared to partner with WhatsApp in markets such as Romania, though not in its home country, according to Claudia Nemat, the board member in charge of the European unit and technology. Bonn-based Deutsche Telekom is at the same time pushing alternative services such as Joyn and Jibe to appeal to different groups, she said.
"We don't believe that one single model will succeed, but that we'll see a co-existence of services," Nemat said yesterday in an interview at the Mobile World Congress in Barcelona. "Which one you'll choose depends on your age group and how important privacy is to you."
Royal KPN NV of the Netherlands, said its German E-Plus unit agreed to introduce a WhatsApp offer this spring.
Once considered a disruption for phone companies because its free messaging service has reduced use of traditional text messaging, WhatsApp has now become an attractive partner for carriers that are looking for ways to benefit from WhatsApp's 450 million users worldwide.
Phone companies last year missed out on $32.5 billion of potential revenue from text messaging because of alternatives provided by WhatsApp, according to estimates by Ovum Ltd., which projected the figure to rise to $54 billion by 2016.
Joyn Extension
Unlike traditional text messages, which consumers pay for through their mobile-phone plans, WhatsApp is free for the first year, and costs 99 cents a year after that. It also competes with Tencent Holdings Ltd.'s WeChat in China, KakaoTalk in Korea and Line in Japan, as well as Facebook's own application, Facebook Messenger.
Joyn, the text service promoted by Deutsche Telekom, Vodafone Group Plc and other carriers during previous editions of the Mobile World Congress, will be introduced in more European countries soon, Nemat said.
WhatsApp will introduce a voice-call function on devices running Apple Inc.'s iOS and Google Inc.'s Android operating systems in the second quarter, founder and Chief Executive Officer Jan Koum said in Barcelona today.
Timotheus Hoettges, Deutsche Telekom's new CEO, is seeking to play a leading role in European consolidation, recently adding assets and upgrading network technology in eastern Europe to become less dispensable to customers who need fast Web connections at home or on the go.
Eastern Europe
Deutsche Telekom has acquired landline provider GTS Central Europe and has agreed to buy out minority shareholders in its Czech unit. It has also offered to buy an additional 10 percent stake in Hellenic Telecommunications Organization SA from the Greek state, people familiar with the matter have said.
Shares of Deutsche Telekom rose 1 percent to close at 12.63 euros in Frankfurt for a market value of 56.2 billion euros ($77 billion).
Nemat said Deutsche Telekom aims to lift the number of households that run on all-Internet protocol technology in Europe to about 8 million by the end of the year, from about 4.8 million. The technology will make it easier to deliver and benefit from Internet services such as music streaming or messaging, she said.
Separately, Deutsche Telekom said today it plans to sell Samsung Electronics Co.'s new Galaxy S5 smartphone in 13 European markets. In Germany, it will go on sale in April.
Before it's here, it's on the Bloomberg Terminal.
LEARN MORE